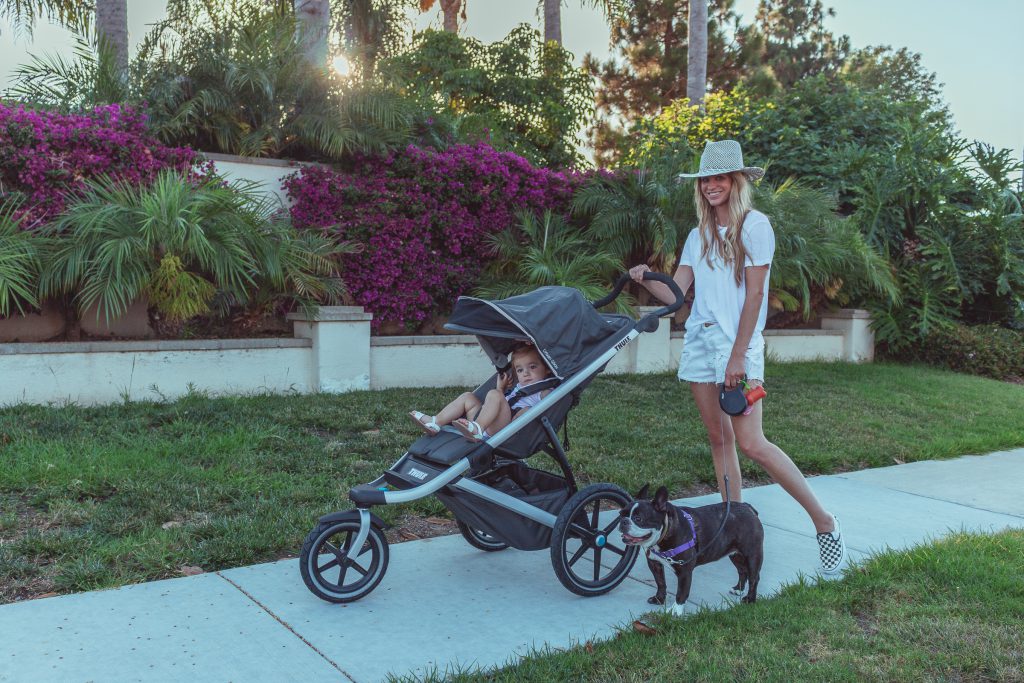 similar hat, t-shirt c/o, shorts, shoes (also love this pair), stroller c/o
TGIF! Was this week extra long for anyone else! For me it was because Jeff was out of town and I was solo parenting until last night. I did had some help, but I am exhausted. Shout out to all the single parent's out there, I have a huge respect for you. ALSO today is the first day of public access for the Nordstrom Anniversary Sale! I wanted to share this look because our Thule Urban Glide jogging stroller is on sale. I also have a fun giveaway at the bottom of this post – don't miss it!
We got this stroller back before Crosby was born and have used it for family walks, runs (if you can call them that) and even our visit to Disneyland last year. It's comfortable and lightweight but still really easy to maneuver with it's front swivel wheel. There's also a little storage space which is always something I look for in a stroller.
I'm wearing my Dog Mom tee to support my first born four-legged daughter. Since Crosby was born she's definitely taken a bit of a backseat, but she's still the most loyal companion. While Jeff was out of town she took on the role of guard dog. She was on edge and ready to pounce – barking at every strange sound. It might sound annoying but she really only acts like that when he's away  and I know it's because she wants to keep us safe. And she's about was harmless and loveable as they come.
similar hat, t-shirt c/o, shorts, shoes (also love this pair), stroller c/o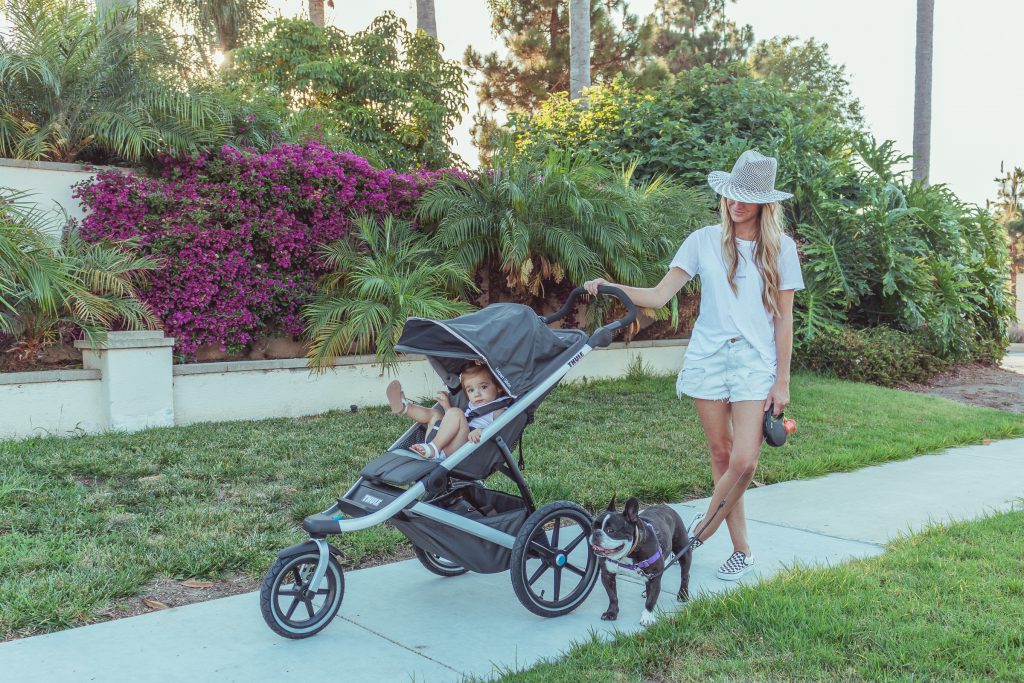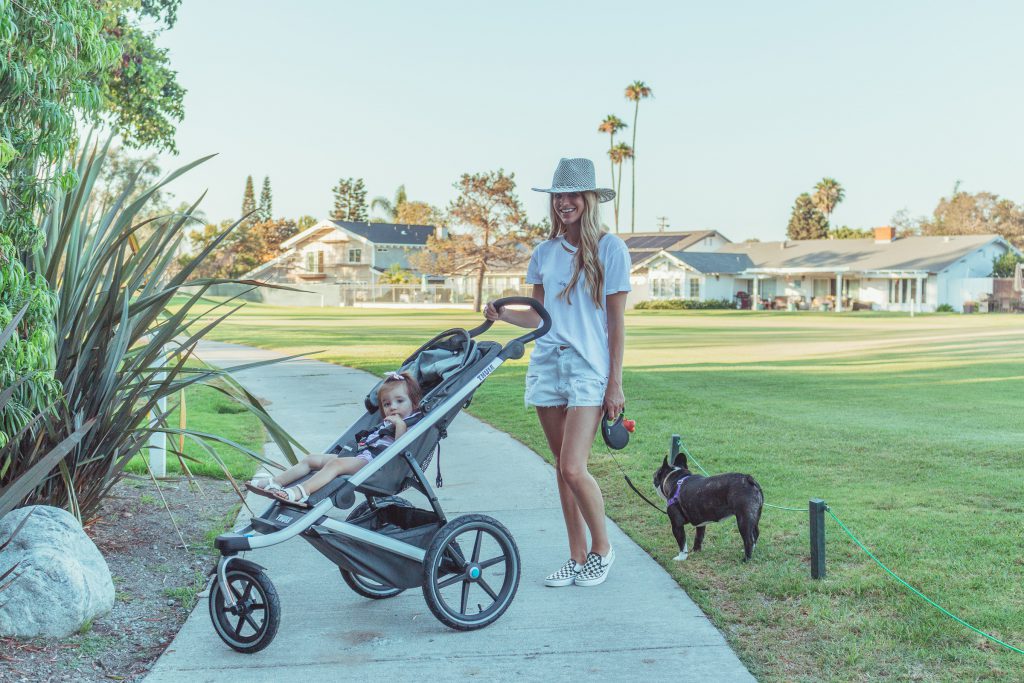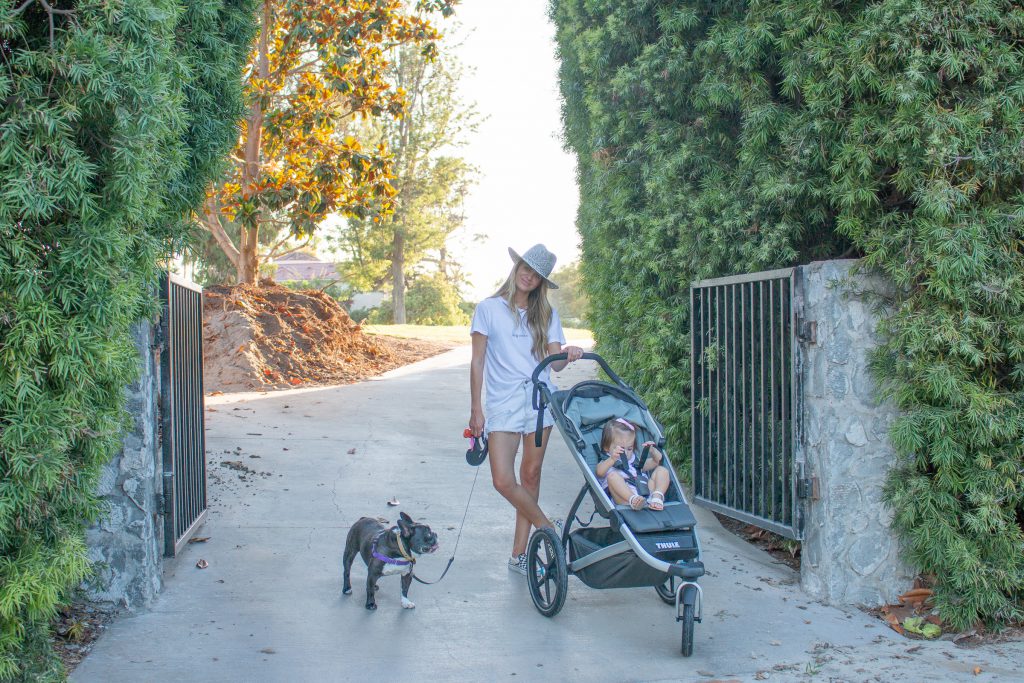 In celebration of the Nordstrom #NSALE Lili Alessandra, a maker of fine linens and soft furnishings on Nordstrom.com, and I have partnered with a few of my favorite bloggers to give away a $400 Nordstrom gift card! Simply enter below by completing the rafflecopter. You'll receive one entry per completion. This giveaway is open internationally and ends on 8/3. Winner will be announced here. Good luck!