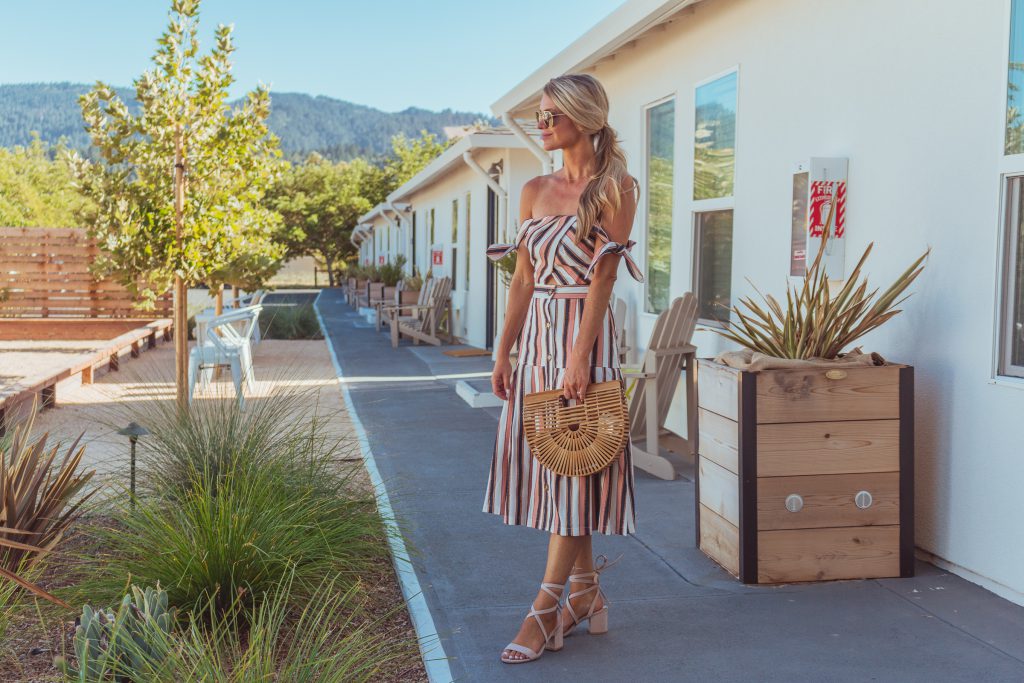 sunglasses, dress c/o, clutch, shoes c/o
After our day of wine tasting last Thursday we checked in to our hotel to freshen up before the wedding weekend events officially kicked off. I was packed pretty lightly for this trip, fitting everything into a carry on. But I still managed to bring two options for the Thursday night welcome dinner. This striped midi dress was the option I didn't end up wearing because it was just too hot.
And since I didn't wear this dress I didn't wear this clutch either. Luckily we photographed this look since the clutch took up a lot of valuable room in my suitcase! Note to self, a large bamboo clutch isn't the best thing to pack when you're trying to save space.
I know it's been a long hot summer across the country… and California is really experiencing the heat. It's been in the 80's and humid at home so I was prepared for more of that. It was nearly 100 each day up there with really equally humidity. I really tried to make this dress work… I thought if my hair was up it might help, but I was still too hot. Thankfully I packed a lighter weight romper to wear to the welcome dinner. Although, since I packed so lightly I ended up wearing it again the next day for more wine tasting, so get ready to see it on here next week.
We stayed at the Calistoga Motor Lodge, which is where these photos were taken. The location was really great for us for the weekend and the hotel was really cool. We had a suite that had an attached sitting room and it was nice to have the extra space. The pool area was really cute, but I wish we'd had more time to lounge and check out the spa.
sunglasses, dress c/o, clutch, shoes c/o