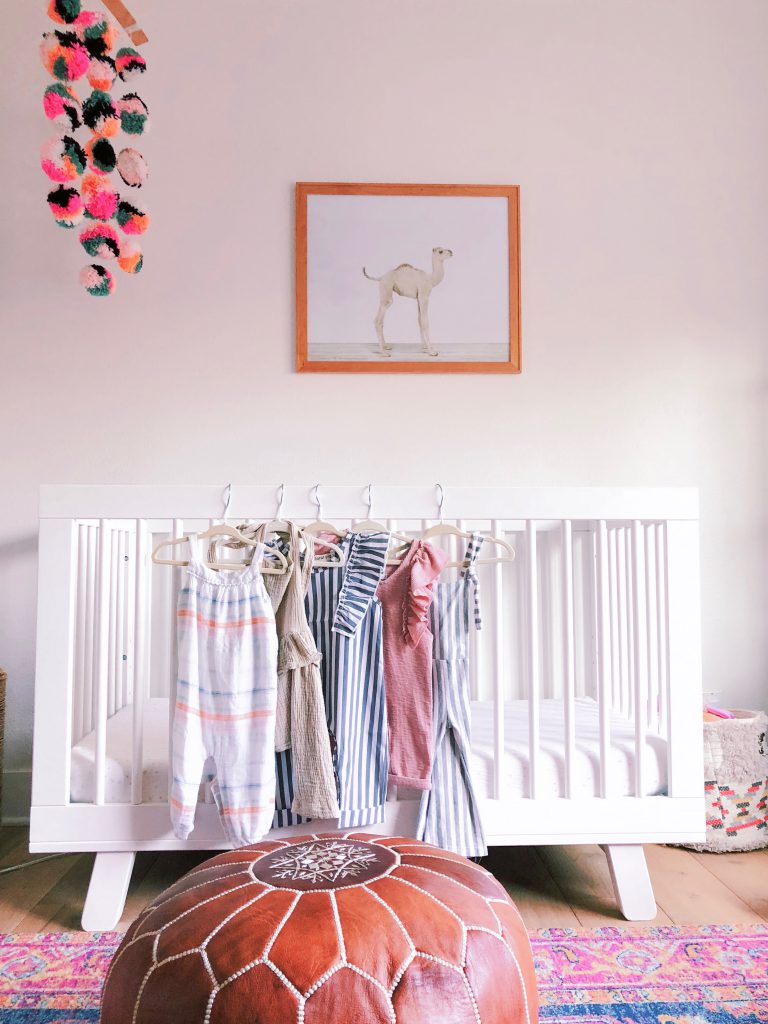 hangers, rompers from left to right: 1, 2, 3, 4, 5, crib, mattress, rug, pouf, camel print, similar pom pom mobile
This might seem like kind of an odd photo for a post titled "Crosby's Favorite Things," but playing in her closet is definitely one of those right now, so this pic seems oddly appropriate. Anyway, at 17 months Crosby is BUSY and anything that will keep her attention for any period of time is a win in my book. I wanted to share some of her current favorites.
Toys:
Doll stroller: she'll push this empty, with a doll or stuffed animal riding in it… or load it up with all kinds of toys and push it around.
Shopping cart: similar to the stroller, she loves pushing this around too.
Stuffed animals: nothing revolutionary here but she's started getting into stuffed animals. She sleeps with a really soft hippo in her crib and has a few other she loves to carry around.
Connecting toys: I'm not sure what she likes more, playing with these or emptying/filling the bucket they came in. Either way, they keep her occupied for a few minutes so they're a win in my book.
Stackable cups/buckets: she loves to stack them and carry them around individually… and will sometimes bring them in the bath.
Bath toys… in and out of the bath: last month Crosby went through a hating the bath phase, but that seems to have passed… at least this week. She loves this mermaid, rubber duckies and these letters and numbers.
Water table: when it's not too hot we love playing in the back yard. I always put this under an umbrella and she will stand at it splashing and playing with boats and toys for a few minutes.
My first purse: this was a shower gift and she's now all about it. Loves to carry it around, especially when pushing her shopping cart. It's so cute!
Books – favorites being "Mr. Brown Can Moo: Can You", "Where Is Baby's Belly Button" and all Jellycat books
Feeding:
Let me know if you have anything to add to the list. We love trying new things!