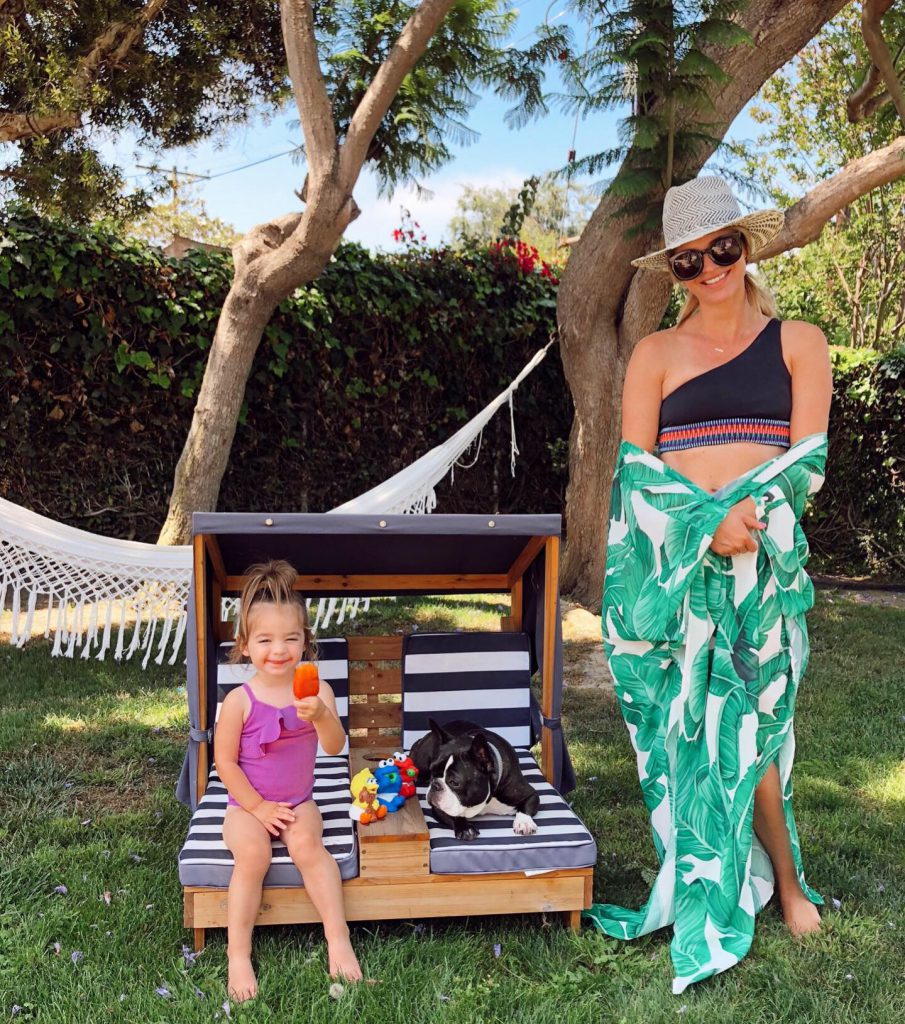 Now that we have two kids getting out of the house for long periods of time is more intense. We still do it but whenever we can stay home we're always more relaxed. This summer we've been playing in our backyard as much as possible. I wanted to share my favorite outdoor things that make our backyard fun for a toddler.
Double lounger – we call this Crosby's cabana. It's seriously the cutest mini thing. We jumped the gun and got it when she was only a couple months old and had to wait until last summer to really use it. Now we're waiting for next summer for Wilder to join her in it. Linked in beige but I found it in navy like we have here.
Kiddie pool – Self-explanitory but if you don't have a pool (or maybe even if you do), these are great for kids. We have this one but I'm also loving this fun swan one.
Unicorn sprinkler – So I'll admit, I'm more into this than Crosby. It's amazing! 6 feet tall and you attach your hose to it to turn it into a sprinkler. I'm sure by next summer she'll be all about this. I also saw this fun rainbow sprinkler you can run through.
Bubble guns – If your toddler is obsessed with bubble these will save you from blowing them all day. I'm also interested in a bubble machine like this one and think it should be our next purchase.
Water table – Crosby was all about our water table last year – it honestly kept her busy for hours. She still loves playing with them at the mommy and me we go to.
Kid's table – This is from the same brand as our double lounger and equally as cute. We don't have this but I think it would be adorable if you're looking for a kid's table.
WATER SAFETY ** Whenever we're at a pool/beach/lake we make sure Crosby is wearing this vest. We are usually right next to her but it brings us peace of mind knowing she's wearing it. Puddle jumper also makes a great one for toddlers.