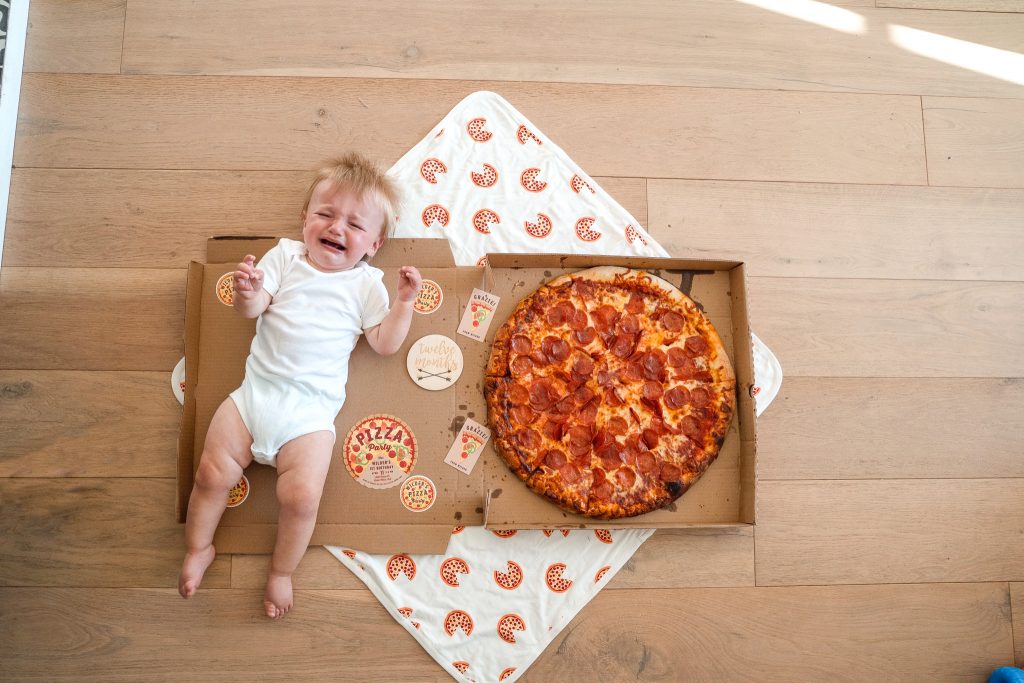 Today Wilder is one! A whole pizza! He's most excited to never have to get in a pizza box again. After we started his monthly pizza photos I thought it would only be fitting to have a big pizza party for his first birthday. We're obviously not doing that now, but are still celebrating with our little family of four and our families will join over zoom.
In honor of Wilder's first birthday I wanted to share his birth story…
My due date was April 15th, but when I went to my 38 week appointment my doctor told me she would induce me any time in my 39th week. She was comfortable doing so because it was my second birth and she thought it would go smoothly. That appointment was on April fools day and Jeff couldn't make it so when I told him the news he thought it was a big joke. Finally I convinced him and we thought it over and decided Wednesday April 10th would be a good day for the induction.
It was kind of weird knowing my pregnancy had an expiration date because Crosby's birth completely took me by surprise. We tried to cram as much fun for Crosby as possible into the last week and weekend leading up to the big day.
Since we were supposed to be at the hospital around 6 am Jeff's mom decided to come over the night before and spend the night so she'd be there in the morning when Crosby got up. We picked up tacos for dinner from our favorite local spot, put Crosby to bed and I poured myself a glass of wine. I wanted to sleep that night and thought one glass after not having any for so many months would relax me.
I took about two sips and then my water started to break. Jeff couldn't believe it and still thought we'd be able to get a full night's sleep. I had to call the hospital to get him to realize we needed to leave ASAP.
Once we got to the hospital and they checked me out they weren't convinced my water actually broke and said it may have only started to and sent me out to walk the halls for an hour. I think this was all around 10:30/11 pm and I was so tired and uncomfortable but still managed to walk the halls in my tent of a hospital gown for over an hour.
When the time was up we went back and they saw how much I progressed and asked me if I wanted my epidural then or wanted to wait. Music to my ears! I obviously got it as fast as I could and was hoping I'd be able to rest or possibly nap for a little bit. Not even an hour later they came in and checked me again and said I was fully dilated and they'd call my doctor. It was about 2 am, my doctor arrived about 20 minutes later, I pushed for maybe 20 minutes and Wilder was born at 2:54 am.
Such a whirlwind experience and even faster first year. I said yesterday that it was the fastest year of my life combined with the slowest month in history. Wilder is such a bright light right now and everything our family needs. He may not be getting a big first birthday party but it will be one we always remember.