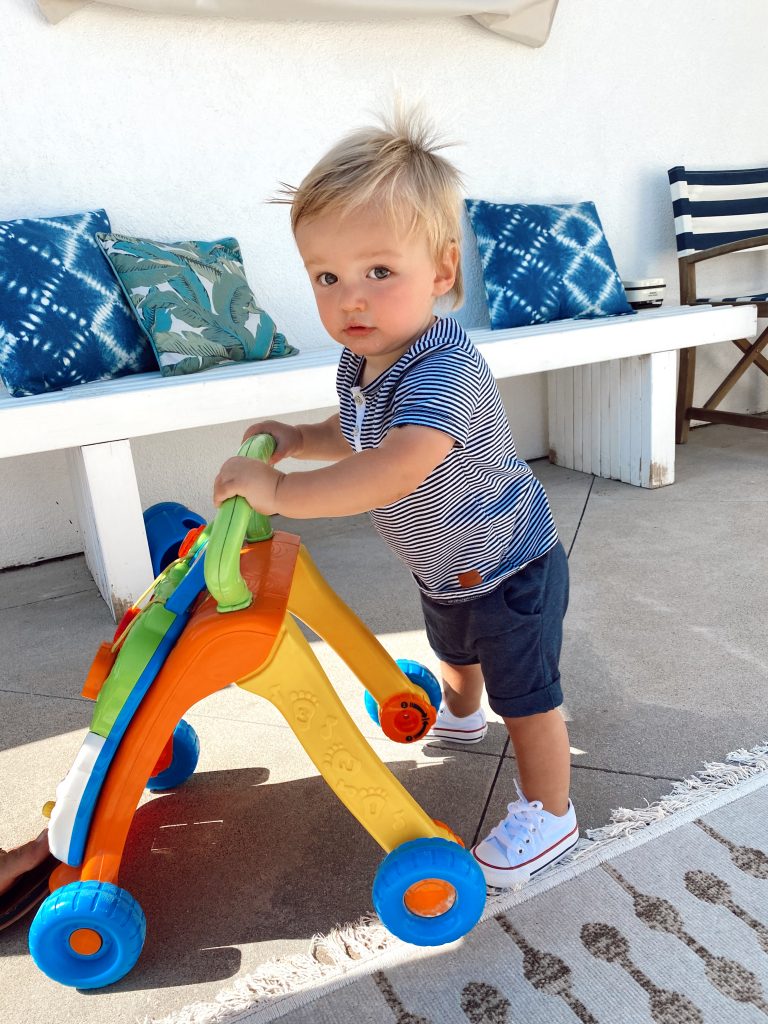 It seems like just yesterday Wilder was born and I was trying to navigate a toddler and a newborn. Now I'm juggling two toddlers and time is seriously flying. Wilder is 14 months old, but honestly he seems like more of a baby than a toddler. Maybe it's because he's the youngest, but I'm not really in a hurry for him to grow up. Today I want to share our favorite toys and things at this age.
Learning Walker – we got this when Crosby was a baby but really didn't use it that much. All kids are different and since Wilder isn't walking on his own yet, this has gotten a TON of use, it's probably his most used toy. He can run with it and can navigate it so well.
Push Car – up until recently this was my favorite way to keep Wilder contained in our backyard. He was perfectly content with being pushed around in it for so long, which was nice for me to have while chasing after Crosby too.
Cozy Coupe Car – this is now Wilder's favorite car to play with in our backyard. He absolutely loves pushing it around and basically uses it as a walker. Crosby loves to ride in it so it's a nice way for them to collaborate and play together – she rides, he pushes.
Water Table – this was one of Wilder's birthday gifts and it's been used almost every day since April. Both kids love playing with it – Crosby uses it as a baby doll bath and Wilder has so much fun splashing in it. It's such a great toy for toddlers of all ages.
Mini Scooter – this is another hand-me-down from Crosby that Wilder is just started to get into. It's the perfect tiny learning scooter that has a seat they can sit on when they're first using it. Eventually the seat comes off and they can scoot on it.
Ride On Car – another toddler favorite, these cars are a great size and perfect for the baby to toddler transition.
Clothing 
I love little boys in basics; t-shirts and cotton shorts are pretty much what Wilder wears every day. Here are my favorites:
T-shirts – Target has the best selection (and prices). Wilder has so many of these.
Shorts – we have a lot from Target and Old Navy.
Pajamas – I love Burts Bees baby pjs. These two piece sets are perfect for toddlers.
Native Shoes – the perfect toddler boy shoe; indestructible, water proof and protect their feet if they're still crawling. I've found them to run a little small and would recommend sizing up.