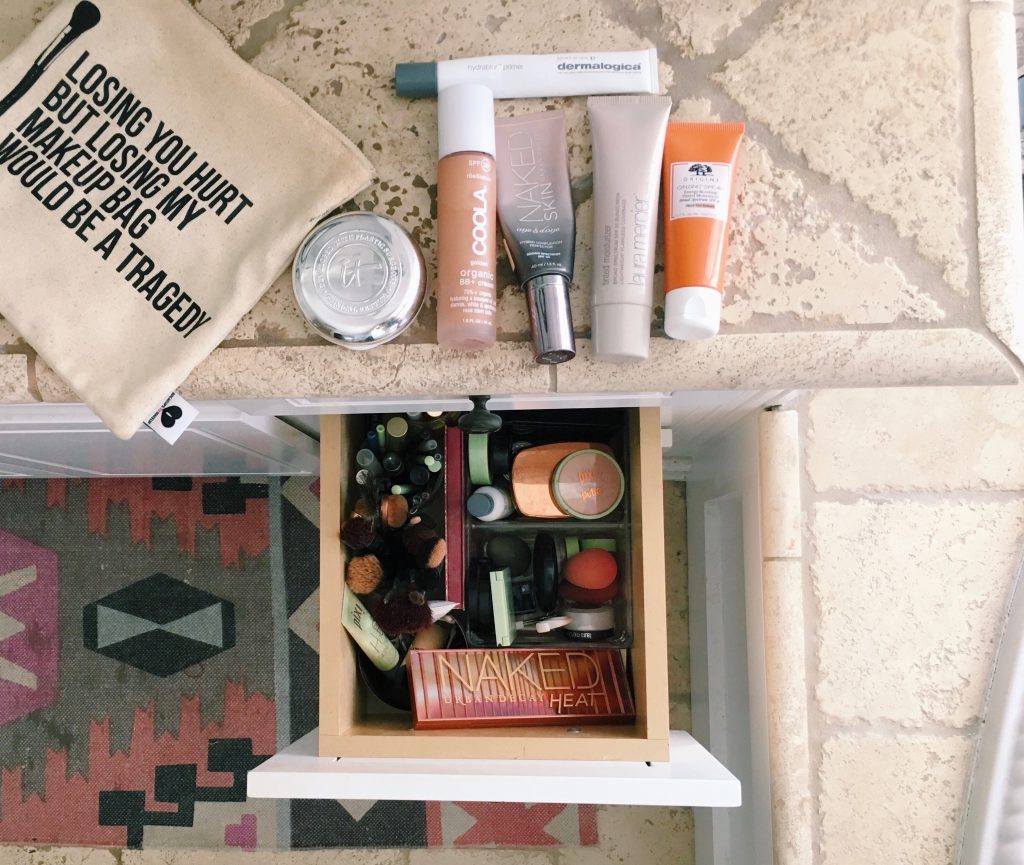 When it comes to my face makeup I prefer light coverage. I'm a long time fan of BB creams and tinted moisturizer and over the years (and all the PR goodies I get sent) I've found a few favorites I keep on rotation. I know summer is ending soon, but these products can be worn all year round. Let's break them down…
Dermalogica Hydrablur Primer c/o – Before I started using this I was never sold on primers. I just never really noticed a difference in my makeup if I used one. But this one is so good! My makeup stays in place all day and I actually feel like this helps blur any imperfection even before makeup is added. I never shoot photos without it.
IT Cosmetics "Confidence In a Compact" – this is by far the heaviest coverage of the bunch. I picked this up on a trip to Ulta after a doctor's appointment months back when I was still pregnant. Or as I like to think of them now, the freedom days. 🙂 I packed this in my hospital bag and applied in the day after Crosby was born, it was the perfect coverage in the hospital when I wanted to look pulled together and now I wear it to events or shoots when I want a bit more coverage. Don't let me fool you into thinking it's super heavy, I am just really light with my normal makeup, this would still be great for day-to-day use.
Coola Organic BB Cream c/o – Coola sent me a sun care kit at the start of the summer with a bunch of their products to try out. I've been using them all summer and I am hooked! This BB Cream has SPF 30 and is perfect to wear out in the sun when you still want light coverage. It's been the perfect day-to-day cream for me.
Urban Decay Naked Skin – This is another great every day product for me. Typically I mix a couple BB Creams and this is one I love because it provides great coverage while still being so light. It also has SPF 20 so you can skip your sunscreen.
Laura Mercier Tinted Moisturizer – A tried and true product I've been using for years. I'm a huge fan of Laura Mercier and this moisturizer is the best coverage. It's pretty light but a great basis for layering with other products depending on how much coverage you want. Again, this has SPF 20.
Orgins Energy Boosting Tinted Moisturizer c/o – As a new mom I'm all about products that help me fake a rested appearance… especially during those first few newborn months! Luckily this product arrived just in time and has been a life savor all summer long. It has SPF 40 – which is great if I know I'll be spending any significant time outside and the coverage is amazing.
Hope you have a great Labor Day weekend – thank you so much for following along!