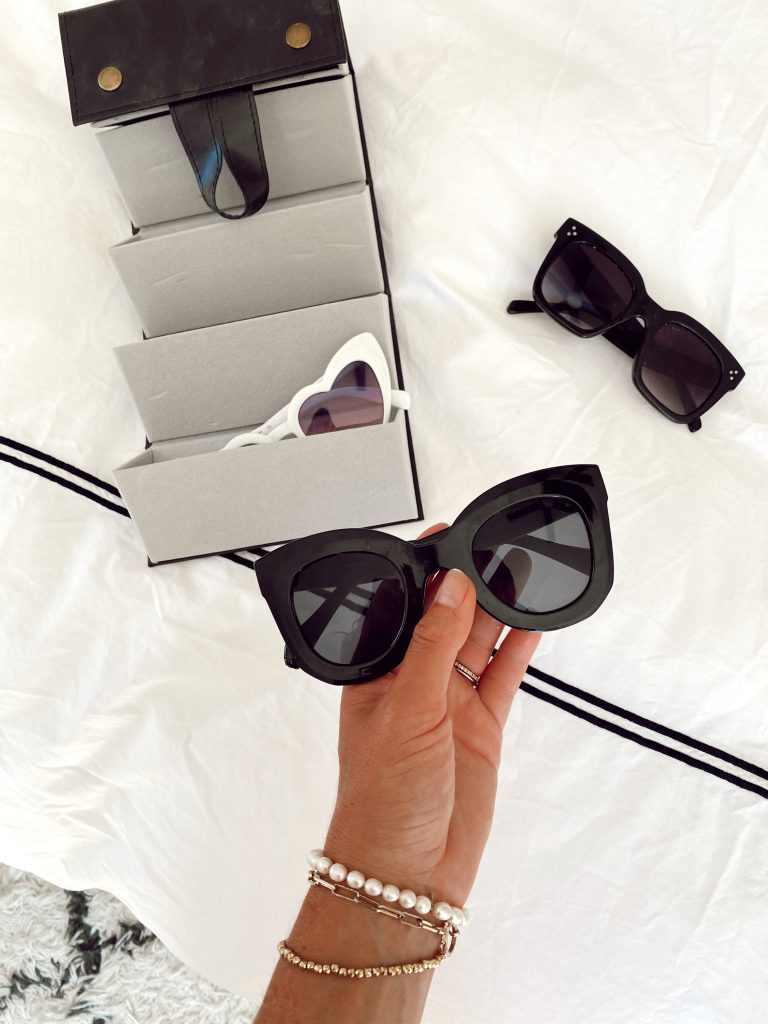 It's officially my summer, my favorite season! We've had a lot of June gloom the past few weeks, but I'm hoping most of that is behind us. I recently cleaned out my closet and found a pair of sunglasses I thought I lost last summer. I purchased this pair over a year ago on Amazon for under $20 and have loved them so much. I recently found another pair with a slightly different shape that I've been wearing non-stop the past few weeks. It got me thinking about some of my other summer favorites, and how they're all from Amazon.
Like I mentioned, I have two pairs (here and here). Both are under $20, comfortable to wear and look like they cost a lot more. I've had several friends purchase them too and everyone has said how impressed they are with the quality.
This is a trend I got into last summer – I purchased this set and wore them all the time. This year I wanted a sea shell chain and found this one. I got it last week and love the dainty touch it adds. It's like having a necklace that serves a purpose and holds your sunglasses.
While we're hot on the topic of sunglasses I need to mention this case. I originally thought it would be great for travel, a beach or desert vacation when I want to bring a few pairs of sunglasses. Since I haven't been traveling this year I've used it as sunglasses storage and love how easy it is to keep organized. It rolls up to a pretty compact size and holds six pairs.
I hopped on the visor trend a few years ago and have been all about them ever since. I love this one – it protects my face from the sun, rolls up which makes it easy to toss it in your tote or suitcase… but the best part about a visor is you can wear your hair up!
When it comes to trends I always think it's better to test drive them and purchase something cheaper instead of diving right in to a more expensive designer piece. I found this tote last summer and loved that is was $20,  but was similar to more expensive versions. It's a fun bag to use in the day – to brunch, lunch, the beach, pool, etc.
This has been a summer staple for me for the past few years. It's such a fun print – definitely statement making. I wear it over swimsuits all the time and instantly feel like I'm somewhere tropical on vacation.