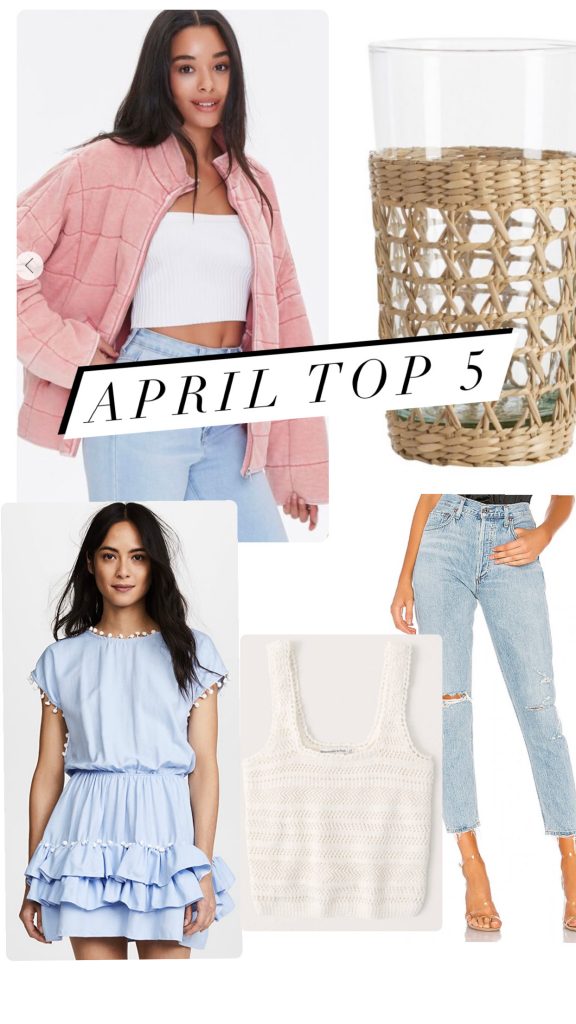 Happy May! I was making an appointment today for "the end of May" and I realized we're already in May and it blew my mind. This year is going by even faster than normal but I guess that's what happens as you get older. I'm currently trying to map out our summer, mainly Crosby's activity calendar, and can't believe it's right around the corner. Today I want to share my top five sellers from April.
Forever 21 Quilted Jacket – I purchased this in black at the end of March and then it sold out. They brought it back in April in a few pretty spring colors and every time I mentioned it I saw how quickly they were selling. It's super soft (like a heavier sweatshirt), comfy, warm and looks like a much more expensive version. They're running a promo right now – 25% off when you spend $85+ with code BMSM25 // 20% off when you spend $60 with code BMSM20 // 10% off when you spend $50 with code BMSM10
Seagrass Glasses – I purchased these last year and used them so much. They're glass but I love them for outdoor. The seagrass part comes off making them easy to wash. They also come in a low ball version.
Agolde Jamie Jeans – One of my favorite pairs of distressed jeans that seem to get better with wear. I've had these for a few years now and wear them all the time. They're more of a splurge but Agolde is one of my favorite denim brands – plus I wear them all the time which makes the cost per wear much lower.
Peixoto Pom Pom Dress – Such a cute and fun coverup with the pom pom details and open back. There's even a version for little girls so you can twin!
Abercrombie Crochet Square Neck Tank – Love this for spring and summer. The square neckline is on trend and the crochet is so pretty. It's lined almost all the way to the bottom so you don't have to worry about it being see through.