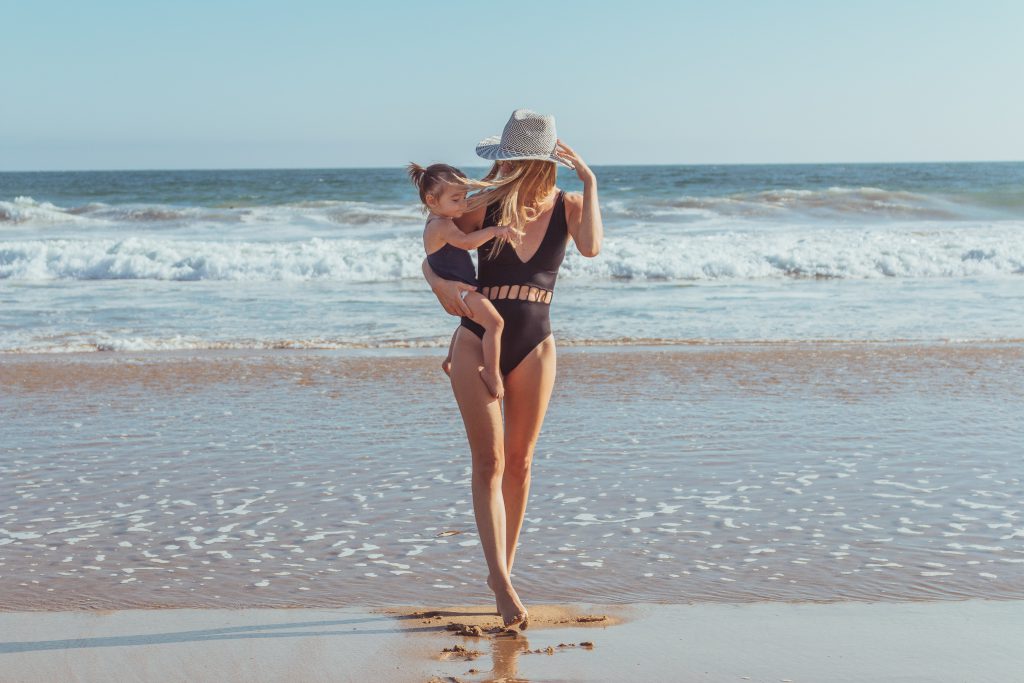 my swimsuit (in blue) c/o, similar hat, sunglasses
Crosby's swimsuit (in red and similar style)
Some pictures from our family beach evening last week. Late afternoon/early evening is our favorite time to go lately because it's not crowded and a lot cooler than the afternoon. I got this bathing suit from Peixoto months ago but this was surprisingly the first time I've worn it. It's no longer available in black but I found it in Navy... which I might even like more. And of course, Crosby was so cute in her little Burberry suit.
She is such a beach baby and always has so much fun running around in the sand. She also loves the water and gets so excited when we're down on the edge.
I know summer is winding down, but we're excited for September. It will still be really warm here but the crowds will be gone, so I'm sure we'll do more beach days. There are some great end of summer sales right now. I'm loving this bikini top I think it would be so cute with a skirt. I also love this coverup… it's perfect for the beach or pool. PilyQ makes some of my favorite suits – I have this one in another color way but love the pink and red and at under $50, you can't beat the price! I always love a set and this one is amazing.
my swimsuit (in blue) c/o, similar hat, sunglasses
Crosby's swimsuit (in red and similar style)