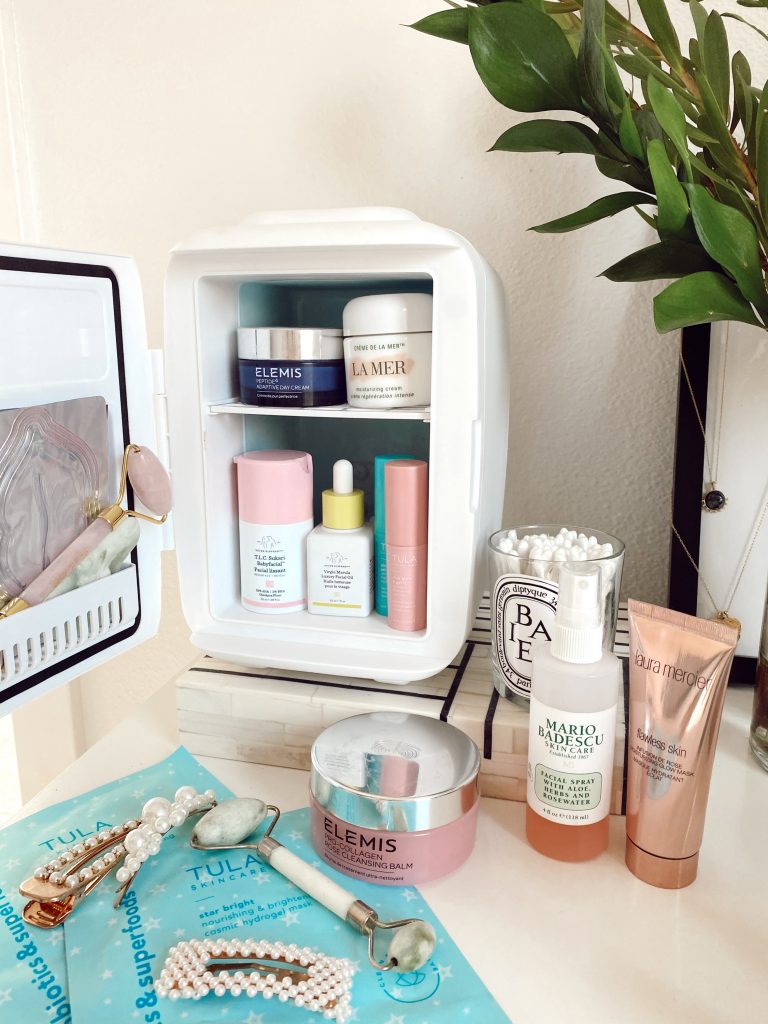 I've been wanting a skincare fridge for awhile now and was so happy that Jeff finally took the hint and got me one for Christmas. I had planned to set it up in our office… but that room is still a catchall/shit show. Until we can get our lives together and have a functioning office, my beauty fridge is set up in our bedroom and I am loving it.
What exactly is a beauty fridge and why would anyone need one?
A beauty fridge is just a mini fridge for your skincare and cosmetics. It is perfect for sheet masks, jade rollers or anything else you want to keep cool. Refrigerating your skincare products can actually help to extend their shelf life and reduce harmful bacteria from becoming present. A refrigerated product may also help calm and de-puff skin and tighten pores whilst giving a more soothing effect than anything stored at room-temperature.
In short, a skincare fridge was absolutely essential to my beauty regimen.
If you're like me and think you can't live without one, there are several options available from the most compact to something a little bigger. Their prices vary as well.
This is the one I have. It comes in a few other colors and is the perfect size and price ($50) if you want to give a beauty fridge a try.
This one comes in blue and pink and has a super cute retro look.
This one has a way more modern look and is a little bigger. Love the rose gold.
This is the same size as the one I have but in a fun color combo.
This one comes in coral and mint and is perfect for someone with a lot of beauty products to chill.
This one has really chic rose gold hinges. That in itself is enough to take the beauty fridge plunge.
Here's what I store in mine…
Sheet masks (20% off with code ASHLEY20)
Eye balm (20% off with code ASHLEY20)
(20% off with code ASHLEY20)