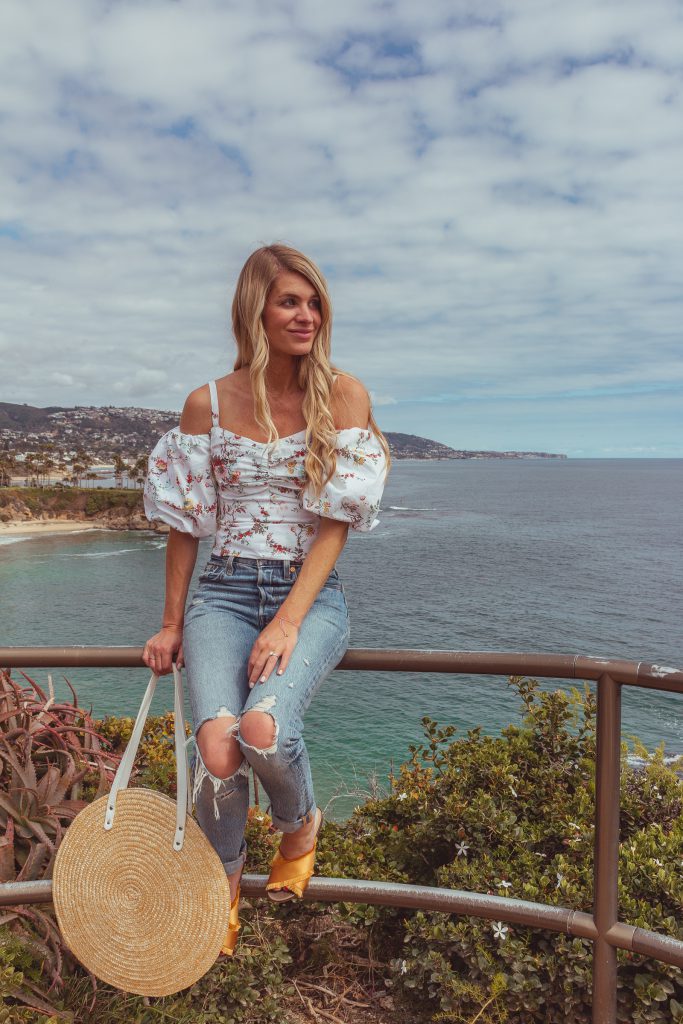 I was looking through my closet the other day and noticed a big theme with my spring/summer tops… there's a lot of off the shoulder going on. Something about that trend always feels warm weather ready to me and my closet is a reflection of that.
This top is a little more of an investment but the print is so pretty. I also like that it's slightly cropped, making it the perfect piece to toss on with my favorite jeans. And "toss on" makes it sound a lot more effortless than it actually is…
Let's talk about the mom jean trend. At first I was a little hesitant, maybe it was because I had just become a mom and didn't want to look like I was trying to dress the part. But as seasons went on and I continued to buy high-waisted skinny jeans I caved and bought a pair of mom jeans. I got these Levi's a few months ago. You've definitely seen me wear them on here.
Reviews were mixed in sizing, some said to size up. I decided to stick to my normal size, but after a few wears they were too big! I hate having to wash denim after each wear so I waited until they were on sale and went a size down. Now they fit perfectly and I'm wearing them even more than before… if that's possible. I would suggest trying them on in store since reviews are so mixed on sizing.
top c/o, jeans, bag, shoes c/o