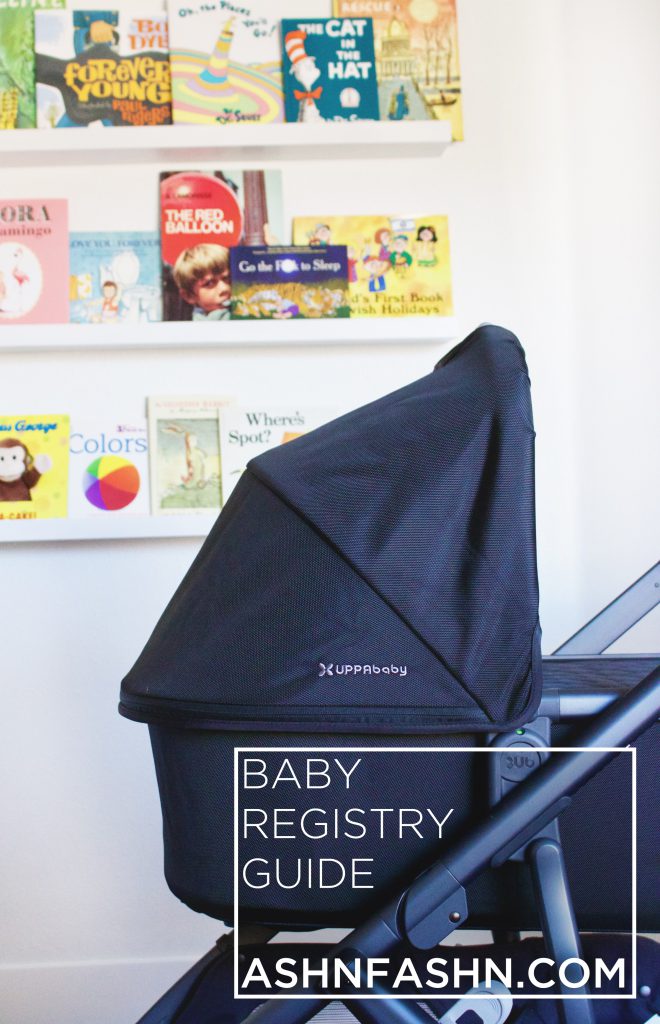 At first, starting a baby registry seemed really daunting. There were so many new items we needed and I didn't really know where to start. For a few months Jeff and I were both researching products and narrowing down what we thought we'd need. We also talked to a lot of friends with kids and consulted Pinterest. I know our baby isn't here yet, but I'm feeling pretty prepared "stuff" wise and wanted to share my guide to registering.
First step is obviously choosing where you want to register. I made the mistake early on of going into a large baby store and getting overwhelmed, so registering online was important to me. Since I didn't want to be limited to one particular store I went with Baby List. As far as I know they're the only place you can add items from anywhere to your registry. My only problem with them is that it can be confusing to see which gifts were purchased and which were just reserved when trying to manage your own registry. They allow people to reserve gifts without buying them and that takes them off your registry. Other than that I was happy to have everything in one place. Another amazing resource is The Babble Out – they have a great checklist to help get your registry started.
Sleeping:
Bassinet: One of the most important items to make sure you have before baby since it's where they'll sleep. We went with this one from Babybjorn. I love it because it's light weight and easy to move around the house, it's mesh fabric is breathable for baby and allows you to see them plus it's a great height to put next to your bed. And don't forget the sheet!
Travel Crib: Also from Babybjorn, we went with this travel crib. It's super compact and should be easy to take on the road. We also got this one from Guava Family.
Crib: Although it will be months before she's sleeping in it this crib from Babyletto was one of the first things we got for the nursery. I love the design and that it easily converts into a toddler bed.
DockATot: Love this as another place for baby girl to snooze throughout the house. Also got this cute cover!
Moses Basket: I love seeing babies in Moses baskets so naturally I registered for one. This one will be great for her to snooze in under an umbrella at the beach or in the backyard.
Boppy Newborn Lounger: This was an item highly recommended by friends who just had babies and it looks so comfortable I wish I could get one for myself.

Gear: 
Bumbo Seat: I think these are so cute and practical once baby starts learning to sit. I love the updated design and that it comes with a detachable tray.
Rock 'n Play: One of my girlfriends told me the Rock 'n Play was the only place her newborn would sleep for the first few months, so maybe it should be in the sleep section? Regardless it's really practical and affordable and I've been told babies love them.
Mamaroo: Baby swings have come a long way, I remember seeing them at friend's houses not that long ago thinking they were so big. The 4moms mamaRoo is just the opposite. Size aside, it bounces up and down and sways from side to side, just like parents do when comforting their babies. The best part is you can control it with an app on your phone.
Bouncer: Another seating/lounging option for baby is this Babybjorn bouncer. Love how light weight it is, it will be great to bring around the house throughout the day.
Strollers: This is probably the item I was most excited about getting. I've heard amazing things about Uppababy and fell in love with this stroller. I especially loved how it comes with a bassinet and toddler seat, the amazing storage and you can easily add another seat or two if you have more children. We also got this jogger from Thule.
Car Seat: Since we were getting the stroller we decided to go with the Uppababy Mesa, it's so easy to put on the stroller.
Feeding:
High Chair: Most high chairs are bulky plastic eye sores. I love how simple this one is plus it adjust to any table height and grows with the child.
Bandana Bibs: You can never have enough bibs and this cutest bib style, in my opinion. I love how soft these are.
Bottles: There are tons of bottle options, we went with Dr. Brown's and got their bottle sterilizer too.
Drying Rack: I hate clutter on the counter tops but think this Boon bottle drying rack is cute enough that I won't mind. Also add this to hold bottle/sippy cup parts and don't forget a bottle brush!
Boppy: I've been told many times a pillow prop is a must have for breast feeding. Both the Boppy and Breast Friend have come highly recommended.
Burp Cloths: Another necessity that might get overlooked on a registry. I'm sure I'll go through tons of these in a day so it will be nice to have a good stash. My favorites are from Aden & Anais. 
Baby Formula Maker: I plan on breast feeding but I'm being realistic about it and knowing I might need to supplement with formula too at first. This is like the Keurig for baby formula, so easy for new parents. They also have a baby food maker that will come in handy down the road.
Diapering:
Changing Table: I blogged about this yesterday, we got this changing table from Delta Children. I love that the changing part can come off  so it can transition to a dresser as the child grows.
Diaper Pail: After some research we went with the Ubbi in white but I love all the color options.
Changing Pad: I loved the Nook Pebble changing pad – it's comfortable and leak proof.
Portable Changing Station: Perfect for on the go. Throw this in your diaper bag or in your car and you'll always be prepared.
Bathing: 
4moms Tub: This tub is awesome! It's temperature controlled so it will never be too hot or too cold for your baby.
Blooming Bath: I love this for newborns and it's so cute! I plan on washing our baby in the kitchen sink with this at first, it's soft and will be a nice cushion from the hard sink.
Wash Cloths: Another thing I'm told we'll go through a ton of. I made sure to register for plain white ones for this reason.
Hooded Towel: They're kind of like a bathrobe to keep you baby warm and dry after a bath. There are so many cute ones here.
Health and Safety:
Baby Monitor: Jeff handled all the research here and we went with this one from Motorola.
Owlet Monitor: This is a relatively new product that uses technology to track a baby's heart rate and oxygen levels, if levels are too high or too low it sends an alert. It will be great to have for peace of mind.
Humidifier: A must have for a nursery. I liked the clean design of this one and it comes in a bunch of other colors.
Thermometer: This forehead thermometer seemed to be the most simple and had the highest ratings.
Nail Clipper: Apparently babies are sometimes born with long nails and you need to start clipping them right away so they don't get scratched. I'm sure these nail clippers will come in handy right away.

Extras:
Receiving Blankets: Again, Aden & Anais is superior here. They have so many cute prints like these, I find myself wanting more even though I think I have enough.
Bows: Since I'm having a baby girl I obviously can't wait to put bows on her. Baby Bling makes really cute ones that are super soft too.
Roomba: This may seem like an odd registry item but hear me out. A clean house is the best gift you can give a new mom and this robot is a floor master. We like to run ours a few times a week right now but I'm sure once baby is here we'll be doing it more to make sure we're totally clean and dust free.
Baby Wearing: There are lots of options here. I got a Babybjorn carrier, a Lalabu Soothe Shirt and a Solly Wrap and can't wait to wear them!

Hope this is helpful if you're in the process of registering!