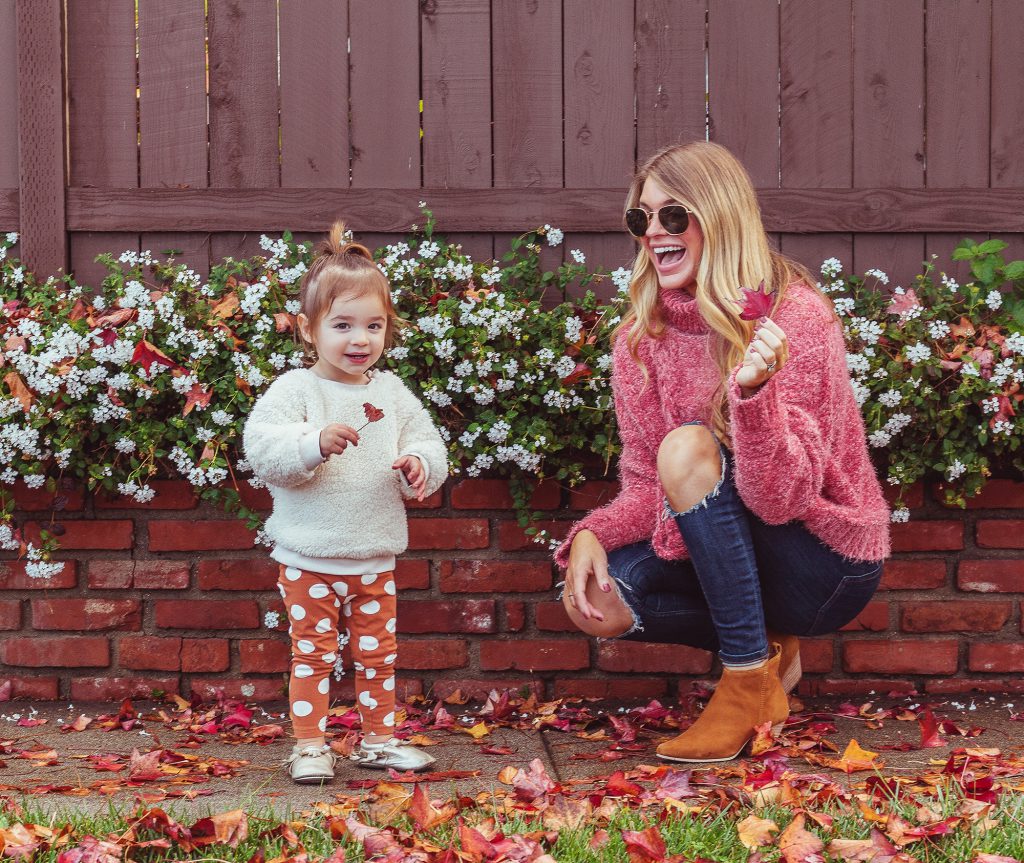 Happy Monday! After today there are only 4 more Monday's in 2018. How insane is that?! A couple weeks ago I noticed the trees in our neighborhood dropping leaves like crazy. And obviously this is something to get excited about since we live in Orange County and aren't that used to seeing. Crosby and I put on our coziest sweaters and headed out to play in the leaves. My pink cowl neck sweater from BB Dakota is under $100 and also comes in black. It's so soft and kind of feels like wearing a bathrobe… not mad at that.
on me: sunglasses, sweater c/o, jeans, booties
on Crosby: sweatshirt, leggings, shoes c/o
Crosby recently went through a growth spurt, a lot of her pants were too short. I got her a few pairs of leggings from Cotton On Kids. Toddler clothing sizing is all over the place, a lot of times the waist is too big, or they're too short. But she fits perfectly into their size 1 right now. I also got her fuzzy sweatshirt there. And this is the outfit she wore on Thanksgiving. 🙂
Crosby's not the only one going through a growth spurt… I think my bump has doubled in size the past couple of weeks. I always heard you show faster with your second – I think my bump is as big as it was when I was 7 or 8 months pregnant with Crosby. I'm stocking up all things comfortable to get me through this winter pregnant. Roomy sweaters, joggers, long cardigans, etc. I'm a little scared to see how big I am in April!
Some of my new closet additions… this velvet jumpsuit that I thought would be fun for a holiday party, I went up one size. This soft pullover that's perfect for everyday. Pretty black blouse for when I want to dress up a bit. The most comfortable leggings that actually aren't maternity but work perfectly if you're pregnant and go over the bump. And this sherpa draped jacket that is perfect for the chillier weather we've been having.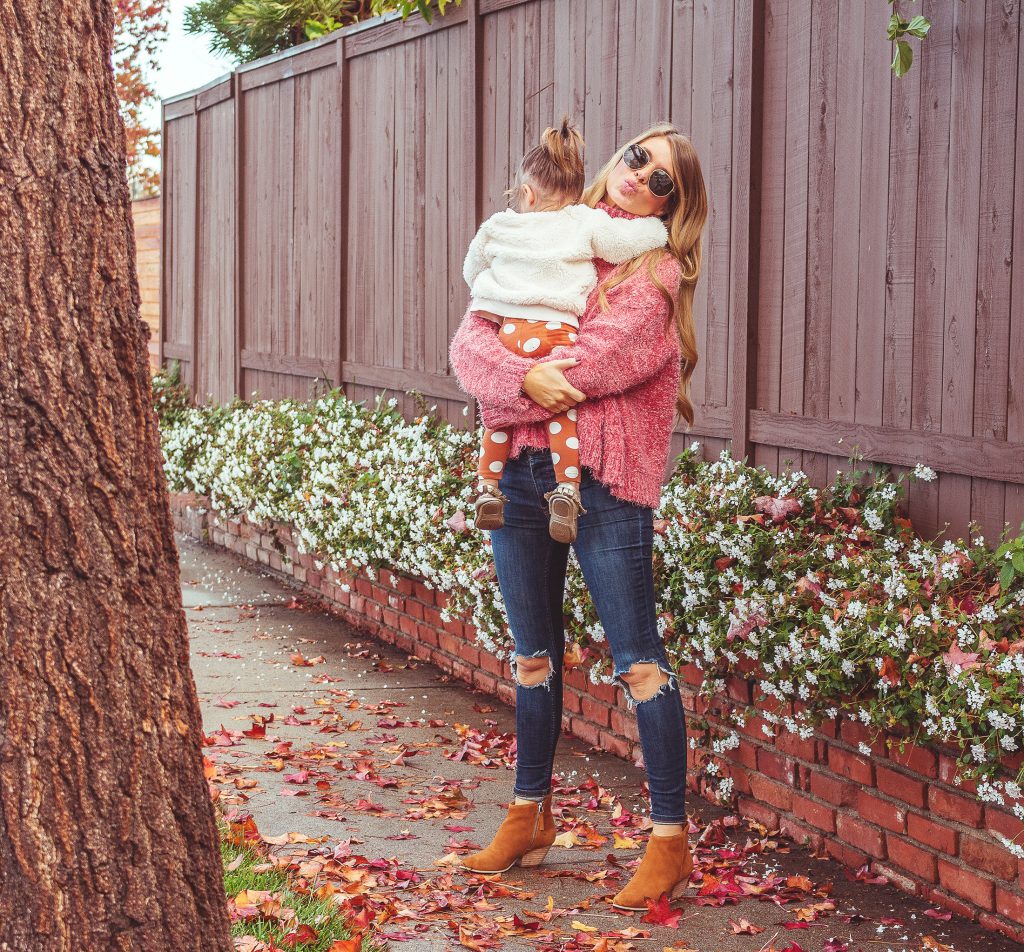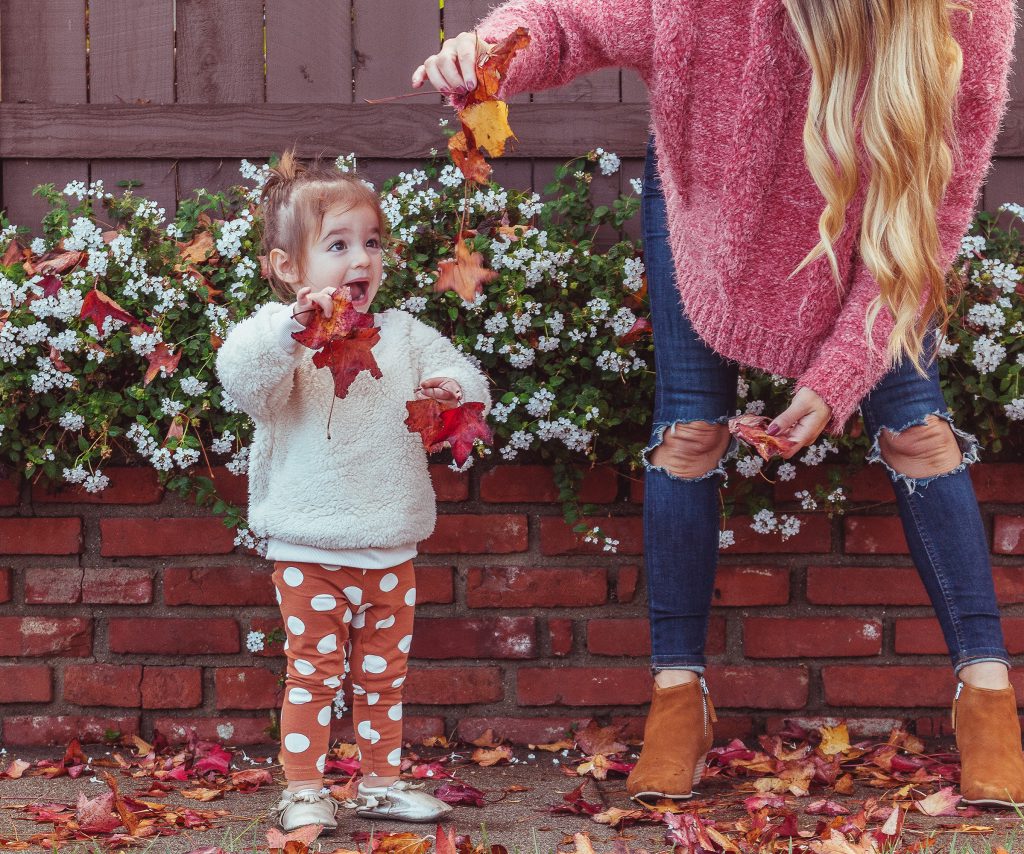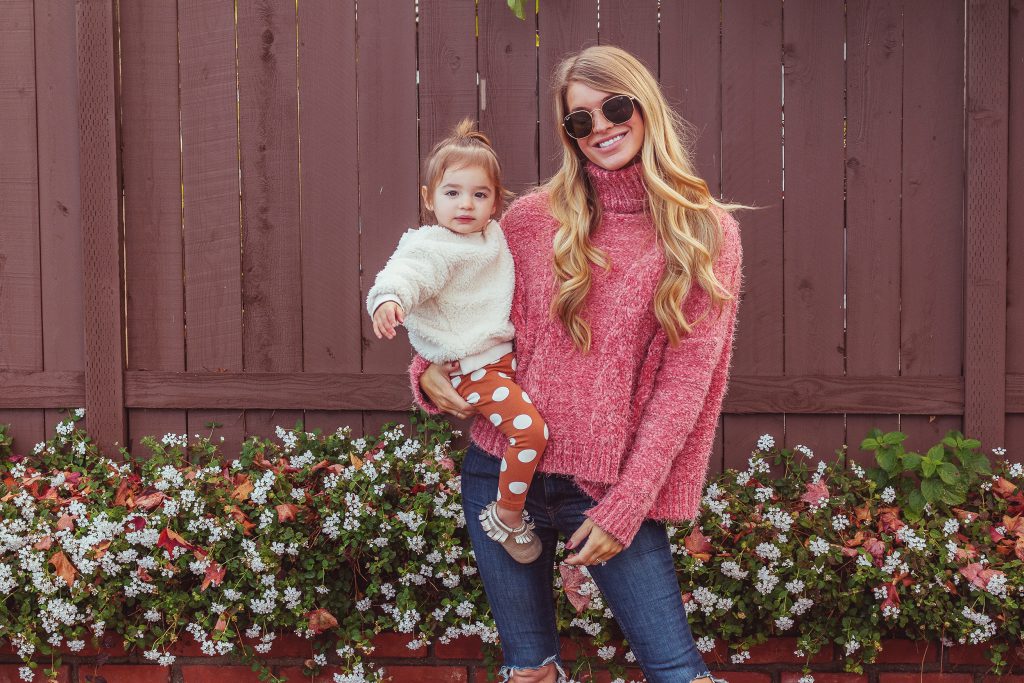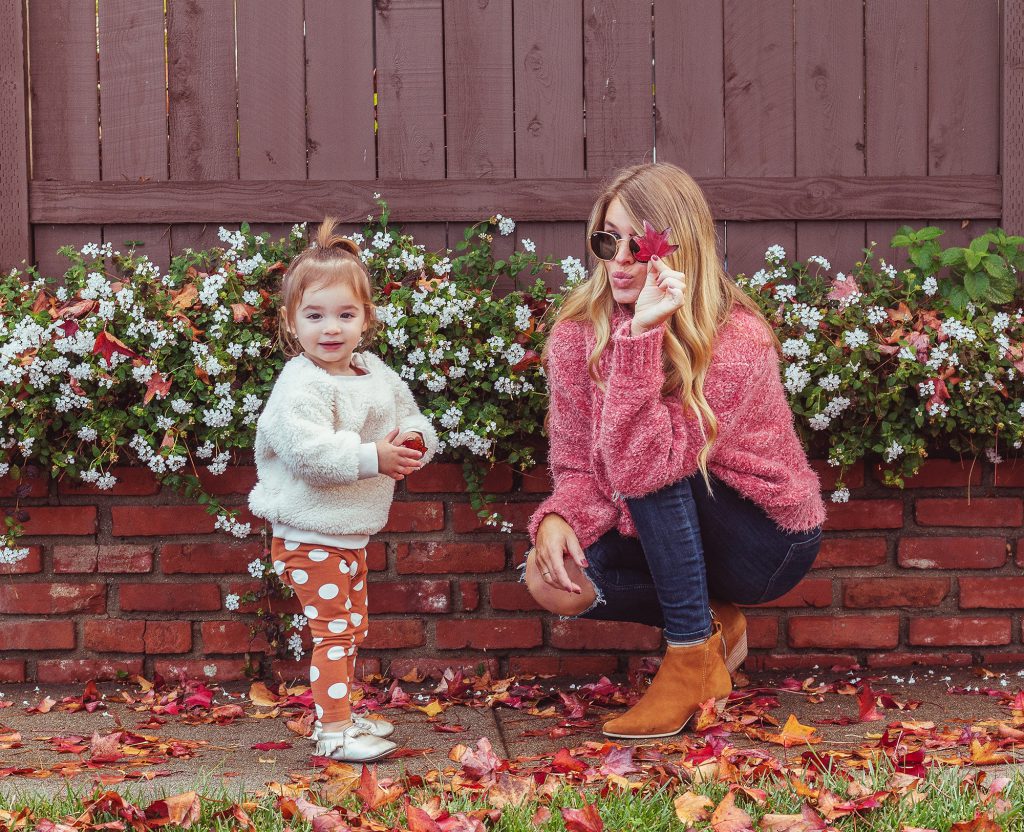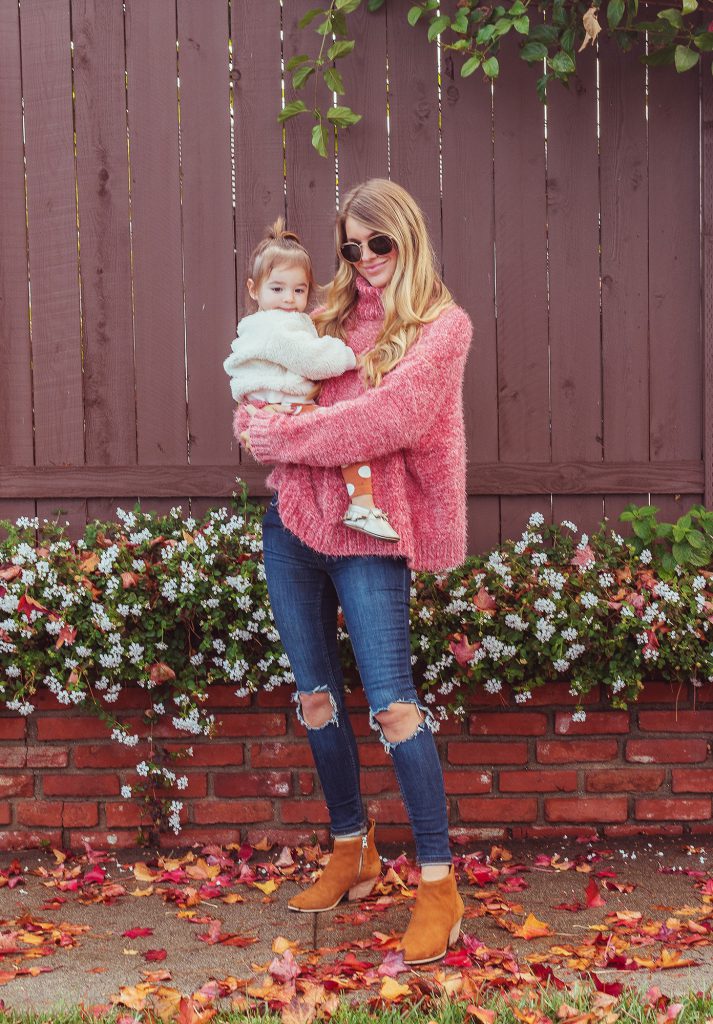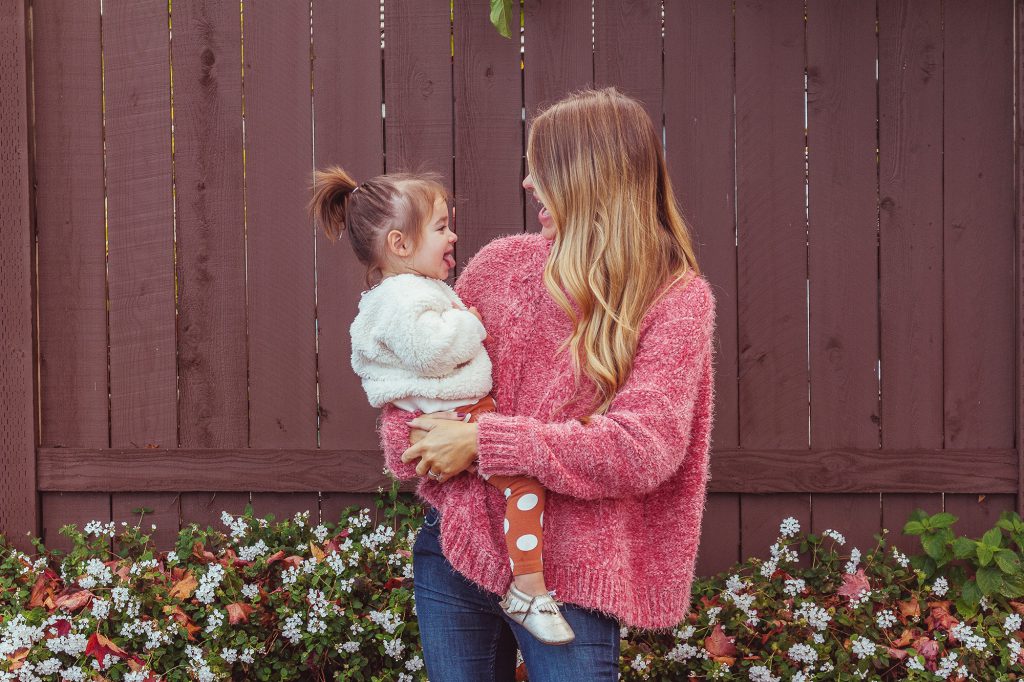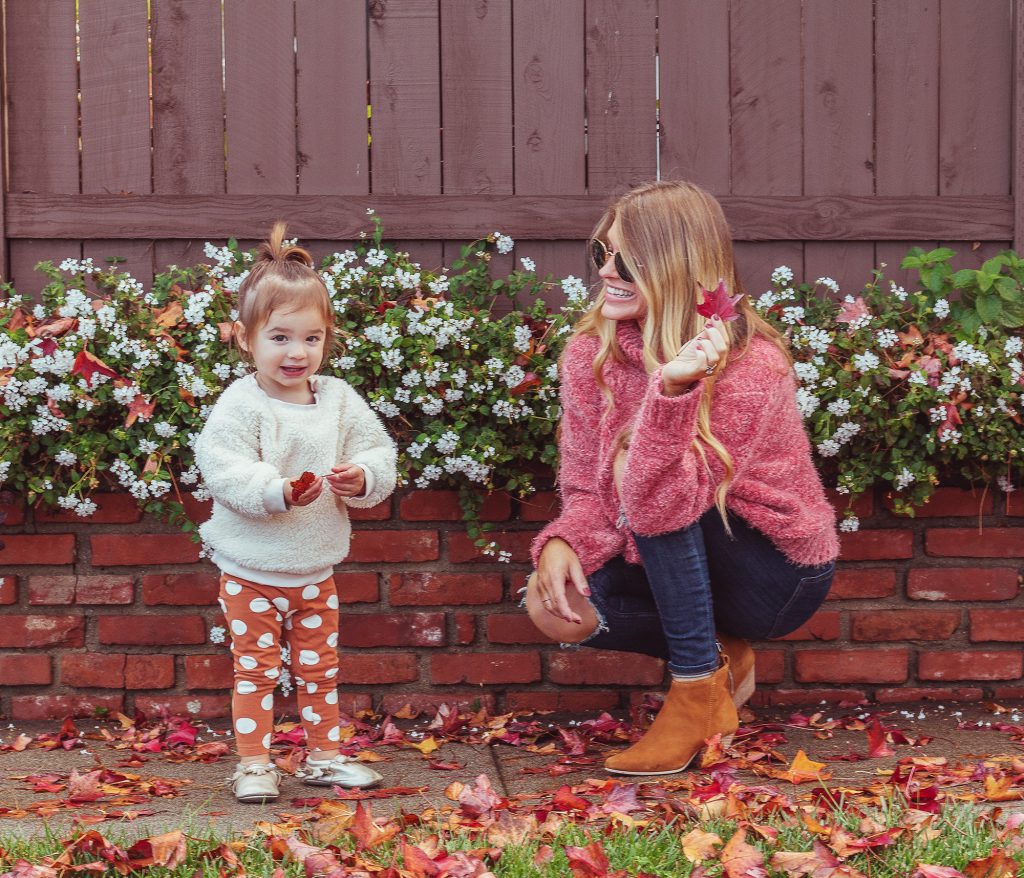 on me: sunglasses, sweater c/o, jeans, booties
on Crosby: sweatshirt, leggings, shoes c/o
Hope you have a good week – thank you for reading and following!