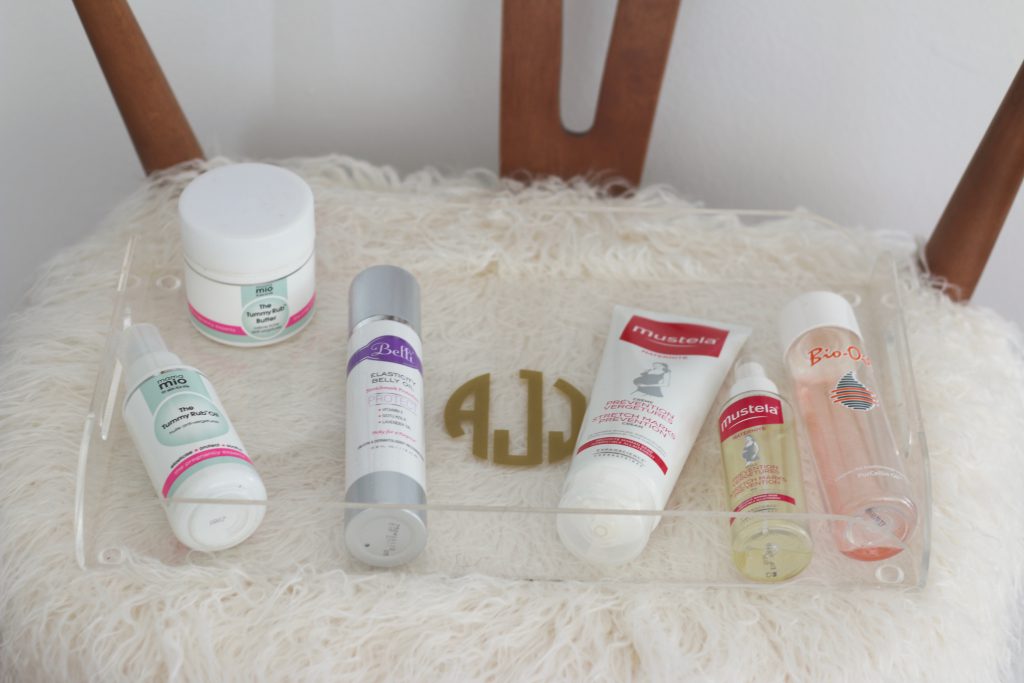 Two words no pregnant girl wants to hear: stretch marks. I feel like I spent my whole pregnancy oiled up like a turkey trying to avoid them. That might be a bit of an exaggeration but I definitely went through enough bottles to justify that! I know it's mostly genetics, but I didn't get any stretch marks so I wanted to share what worked for me.
Tummy Rub Oil – Mama Mio sent me their pregnancy kit back in my second trimester and the products were all amazing! This oil was great to cycle into my routine, I ended up keeping it in my nightstand to apply before bed.
Tummy Rub Butter – Also from Mama Mio, I'd follow the oil with this thick body butter. It's really rich and helps lock the oil in. Perfect for overnights.
Belli Skincare Maternity – I bought a bottle of this early on in my pregnancy and loved the scent, it's almost spa like. I know that's not a great reason to get attached to an oil but I used it on and off throughout my pregnancy and even replaced it when it ran out. It's rich with Vitamin E and I  felt like it did a great job sinking into my skin.
Mustela Stretch Marks Prevention Cream – Mustela sent me a bunch of products to help prevent and then treat stretch marks in my third trimester. I'd use this cream after the corresponding oil when I wanted to double up on my coverage.
Mustela Stretch Marks Preventions Oil – This is another oil I ended up loving. I'd use it before the body butter to make sure moisture was locked into my skin.
Bio Oil – Also discovered really early in my pregnancy and surprisingly one bottle lasted the whole time! This one was my constant, I applied it after showers to help keep the moisture locked in. It has PurCellin Oil in it which changes the formulation's overall consistency to make it light, not greasy.
Hope you have a great day – thanks for reading!