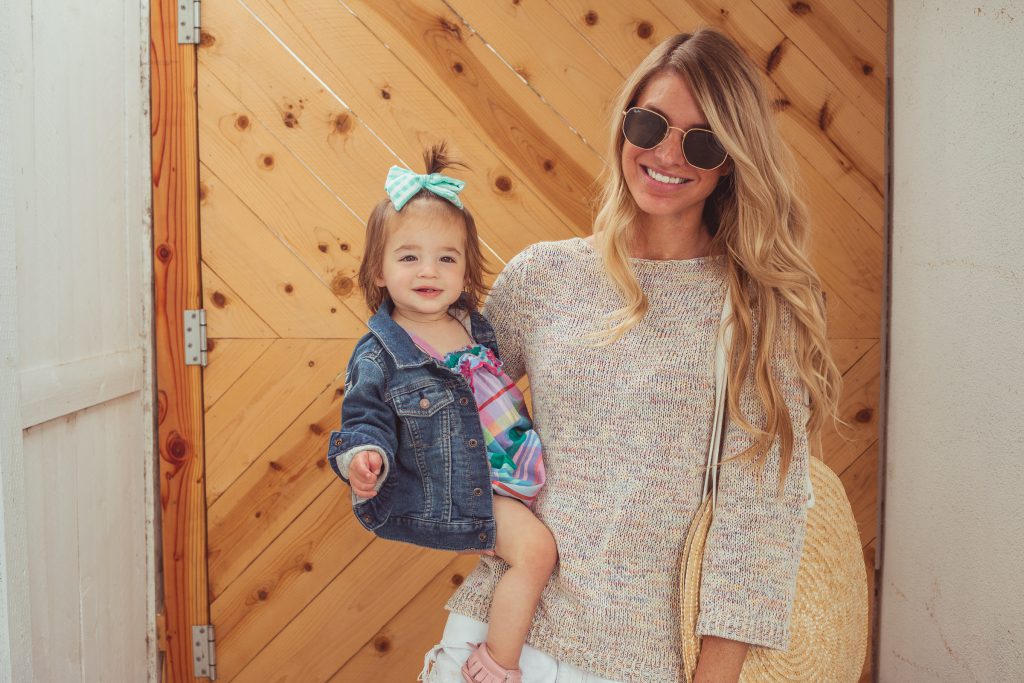 sunglasses, sweater c/o, shorts, bag, similar sandals, Crosby's bow c/o, jacket, romper, shoes c/o
It might seem odd, but a sweater is always a summer staple for me. I got this one from Loft recently and know it's going to be on repeat all summer long – and even well into fall. It has the cutest bar back and slightly open knit, making it the perfect sweater for an extra summer layer.
I wear sweaters all year round but have them broken up into categories in my closet. Sweaters like this one with it's three-quarter length sleeves, bar back and wider knit are perfect for warmer months.
I wore it over the weekend to run errands on a particularly June-gloomy day. I just couldn't bring myself to wear jeans AGAIN (it's been a week of gloom over here). So I threw on some comfy cutoffs and sweater and was set for the day.
I had just gotten Crosby this romper and she was dying to wear it. Or maybe I was dying for her to wear it? Either way I knew she had to do it so we made it work with her denim jacket. You can't see the back but I had someone stencil her name on it. It's super cute and goes with everything! What girl doesn't need a denim jacket?!
You can't tell in these photos… or maybe you can in some, but she is hard core teething. She's been somewhat of a late-bloomer with teeth, but over the last month a couple more have started to break through. She now has 5. This weekend she was a lot sleepier, a bit clingier (which I won't complain about) and had a bit of a fever. Poor girl. Hoping she feels better this week since we're off to Palm Springs this weekend.
sunglasses, sweater c/o, shorts, similar bag, sandals c/o, Crosby's bow c/o, jacket, romper, shoes c/o