With the new year I wanted to create more beauty content and feature products I love and can't live without. First up I thought I'd share my current favorite makeup products. I love to try out new products but am pretty safe simple and tend to go back to my usual lineup.  Recently I've discovered a couple new products and am happy to add them to my regimen.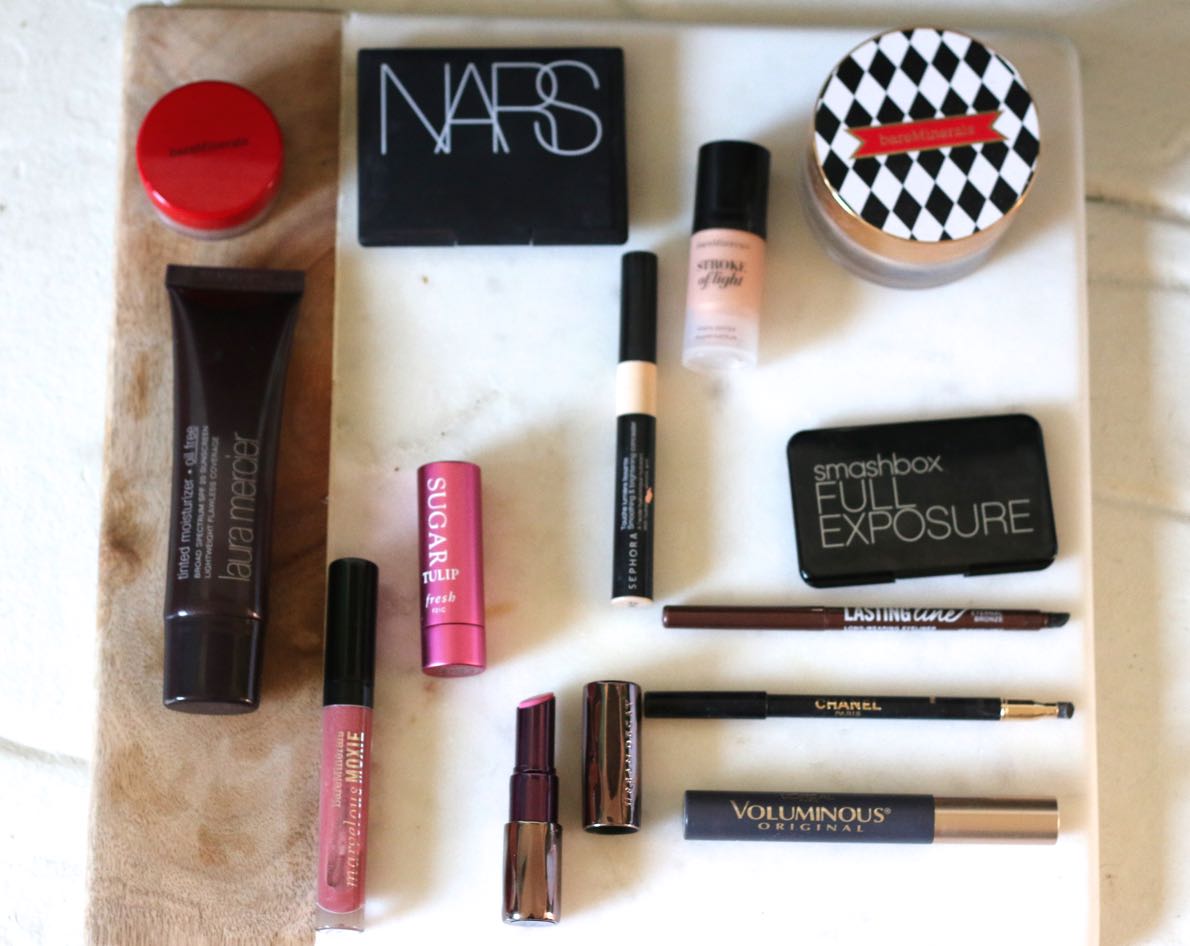 Face: Laura Mercier tinted moisturizer // bareMinerals blush in daybreak // NARS bronzer in Laguna // bareMinerals stroke of light highlighter // bareMinerals pressed powder // Sephora conceler 
I like my face to look clean and natural but I love a glow. I've been feeling so pale this winter so I've dug out my beloved bronzer. Who am I kidding, I never put it away! I love to look a little sun kissed and go way lighter in the stroke in the winter.
Eyes: Smashbox full exposure pallet // bareMinerals liner in eternal bronze // Chanel liner in noir – black // L'Oreal voluminous mascara
I'm pretty low maintenance on my eyes. To me the most important thing is mascara. I've blogged about this one before but it's my fav. You can't beat the price either and can find it just about anywhere. I don't wear eye shadow unless I'm going out at night but when I do I like bronzey brown shades to make my blue eyes pop.
Lips: bareMinerals lip gloss in Prima Donna // Sugar Fresh in Tulip // Urban Decay lipstick in Obsessed
I love a bold red lip, but because my mouth is on the bigger side it mades me look a little clownish. Luckily I love a natural looking pink lip too. I've been using Sugar for years but recently my friend Kathleen got me into this Urban Decay color. The name doesn't lie, I am obsessed!
Have a great weekend.. thanks for reading!