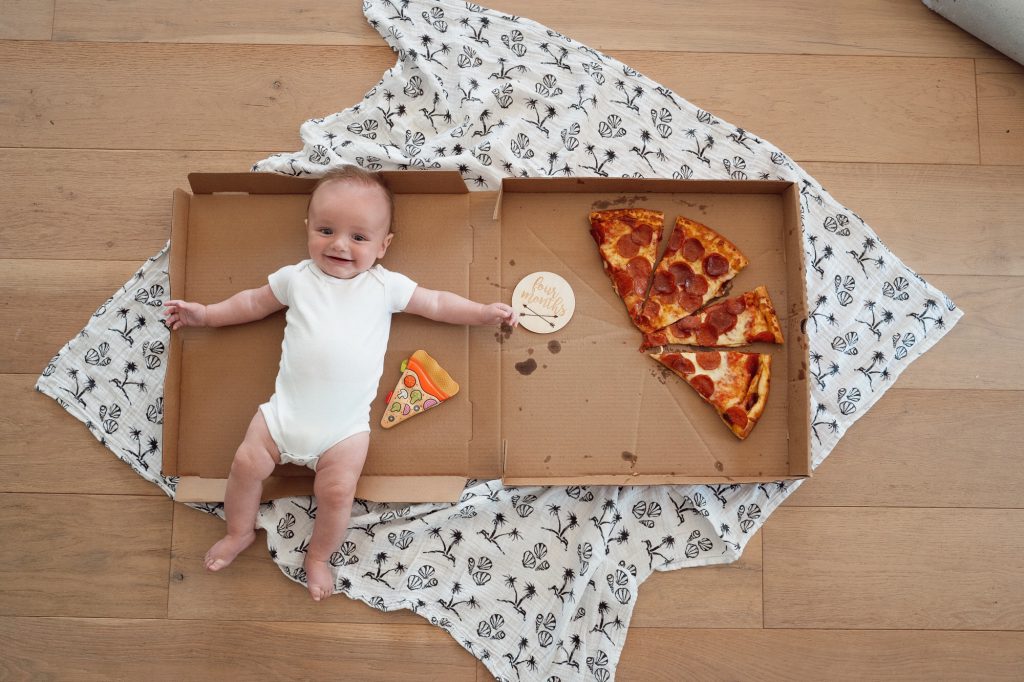 Wilder is four months old as of Saturday which means we still have eight months of eating a large pizza every month, sorry Jeff! I actually found the pizza idea on Pinterest when I was pregnant and thought it would be a cute way to document his monthly photos. So far it's been really fun to see how much bigger he's getting in the pizza box… I have a feeling it's going to get a lot more challenging to photograph him in it as he gets more mobile.
Speaking of, last week he started rolling from his back to front. He's been rolling from front to back since he was one month old, so now he can fully roll. I'll put him on his play mat and the next thing I know he's rolling all over the place. I can't remember when Crosby started doing this but I feel like it was around the same time.
He's still such a good/mellow baby. And so easy to get a smile out of. He loves watching his crazy sister and probably can't wait to be doing whatever she's doing. He totally goes with the flow and naps wherever, I've never been strict about a nap schedule this early and I think it makes them more adaptable. At least for now.
He's over 13 pounds now which feels big, but I think he's right on track. We go to the doctor later this week and she'll give us her percentiles. Crosby was super tiny and didn't weigh 13 pounds until she was like eight months old. He's up to a size 2 in Bambo Nature diapers now and wearing 0-3 or 3-6 months clothes.