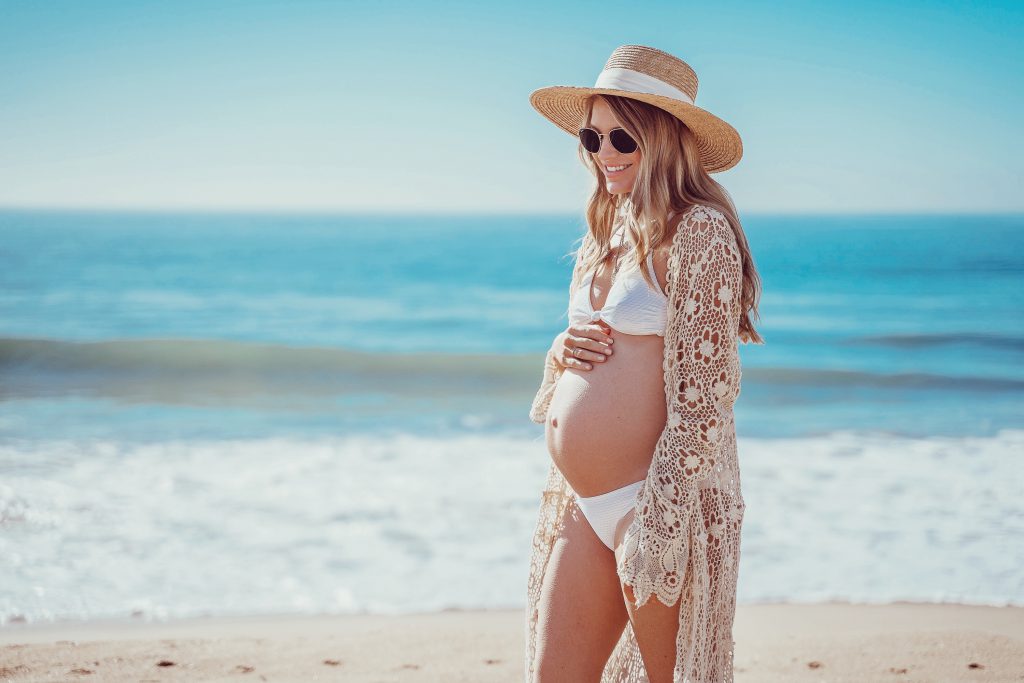 Another bump shot… don't worry, there's only 7 weeks left of them. Today I thought we'd talk about something I'm asked about a lot when I'm pregnant. Pregnancy safe beauty products. It was honestly a topic I was not prepared for when I found out I was pregnant with Crosby. I was ready to give up raw fish, alcohol, etc… but beauty? It never crossed my mind. Luckily I've found several products that I love and are safe for pregnancy.
For the face:
First of all, ditch anything with retinol or salicylic acid. Definitely not recommended by doctors when you're expecting. Aside from that there's a lot of varying opinions on what else is out of harms way.
Here are the products I use to cleanse my face daily
Colleen Rothschild Gel Cleanser 
Kate Somerville Goat Milk Moisturizer 
*I don't currently use them but I know Beauty Counter's products are all pregnancy safe.
Self Tanning:
Ok, let's talk tan. Being pregnant in the winter is a huge drag. Sure you're not sweating to death like you would be if you were pregnant in the summer but your skin gets ghostly. I didn't use self-tanner until the very end with Crosby because I wasn't sure which were safe to use. This time I've found a few and when I use them I feel like a new woman.
Coola Sunless Tanning Anti-Aging Face Serum
NKD Skin Gradual Glow Daily Tan Moisturizer 
Both are organic and made of mostly natural ingredients. Which is big for a self tanner.
Body:
EOS Shave Cream for Sensitive Skin
Misc:
I switched to natural deodorants after Crosby was born and never looked back. I've been using this one from Kopari for the last several months and love it so much. I honestly think it works just as good as "normal" deodorants without anything toxic like aluminum. Honestly even if you're not pregnant you should be using an aluminum free deodorant.
Stretch mark prevention: I've been oiling myself up like a Thanksgiving turkey since I was like 11 weeks pregnant with no visible bump. Bio Oil is my favorite belly oil. I also use it on my thighs, butt and chest just to be safe. Wait a few mintues after you apply before getting dressed.
If you're pregnant and searching for safe products, I hope this helps. Always run products by your doctor if you're concerned.
Thanks for reading – happy Friday! XO