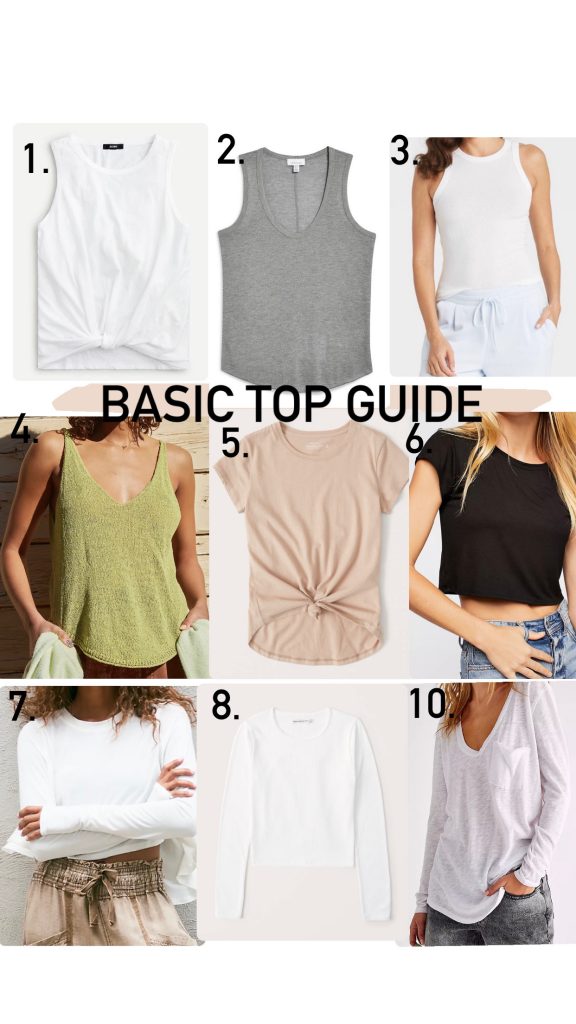 Over the last year I've really gotten into basic tops. The combination of not going many places and favoring comfort/practicality has lead me to take a deep dive and try out several basic tops. Everything from tanks to long sleeves and I've found nine that I consider wardrobe staples and wear all. the. time. Seriously – people are probably sick of me talking about them and wearing them but when I find things I love I want to share them. I'm breaking them all down below in my basic top guide.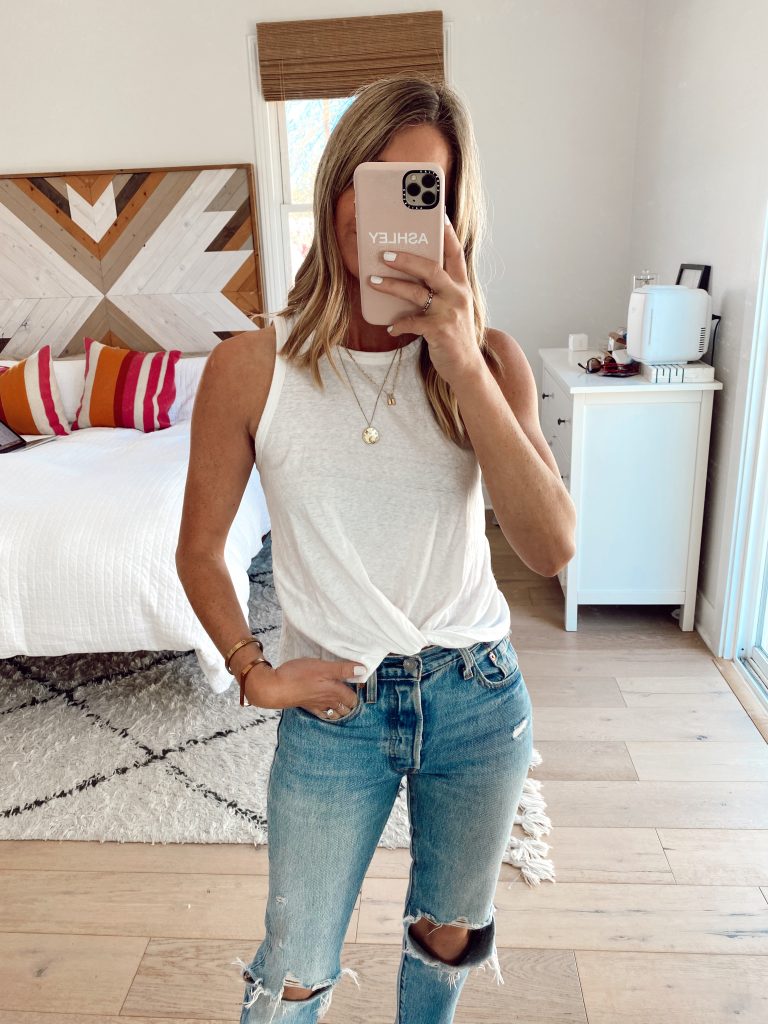 I first purchased this in a cute leopard print at the end of last spring. It's a great tank with a thicker strap and high neck. The twist-front detail makes it a little more interesting. It's no longer available in leopard but I also have it in white and wear it all the time. It comes in coral, gray, light blue and navy as well. It can be worn for workouts or with jeans. Comfortable, casual and not cropped. It's currently on sale for $16.50.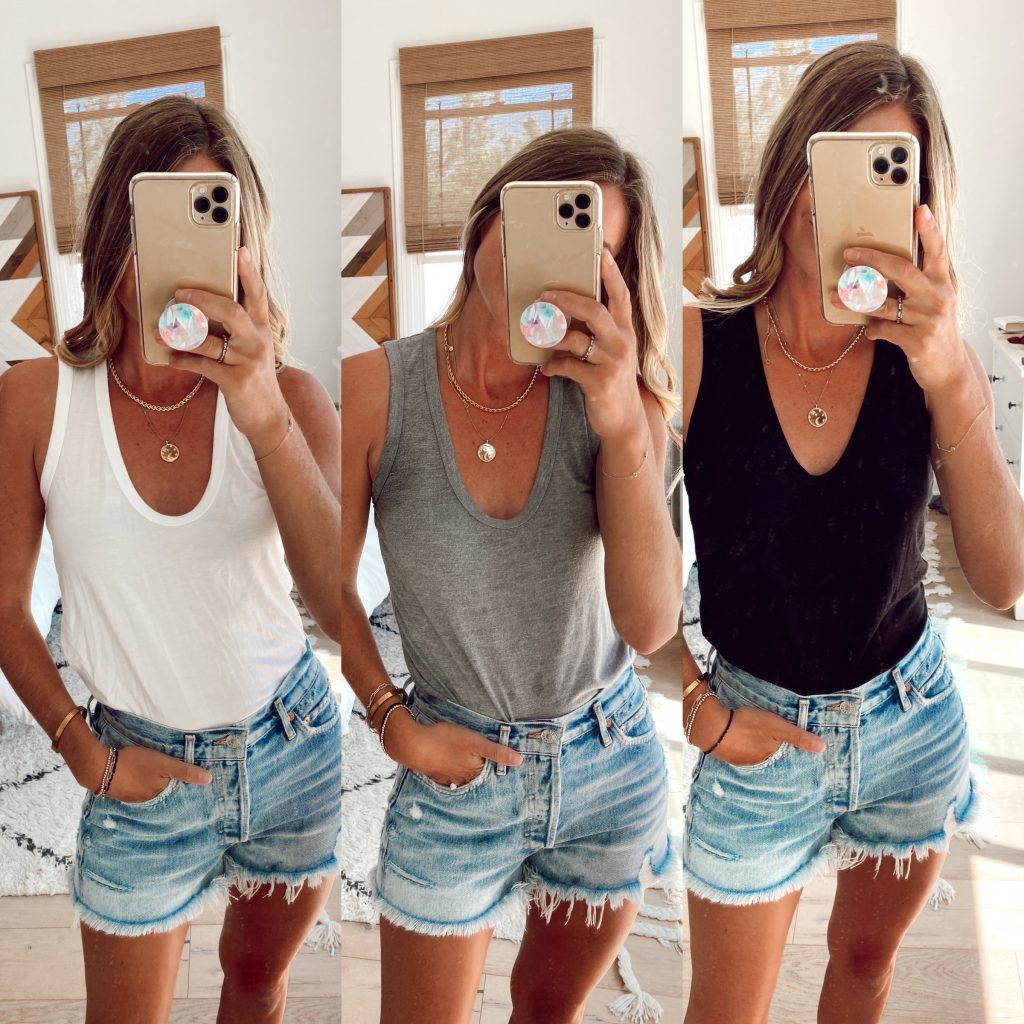 If you forced me to pick a favorite tank, this would be it. It's light-weight, comfortable and can be worn with just about everything. It comes in white, gray and black and I have it in all three colors and wear it at least once a week. It's European sizes so I go up one and it has a perfectly relaxed fit.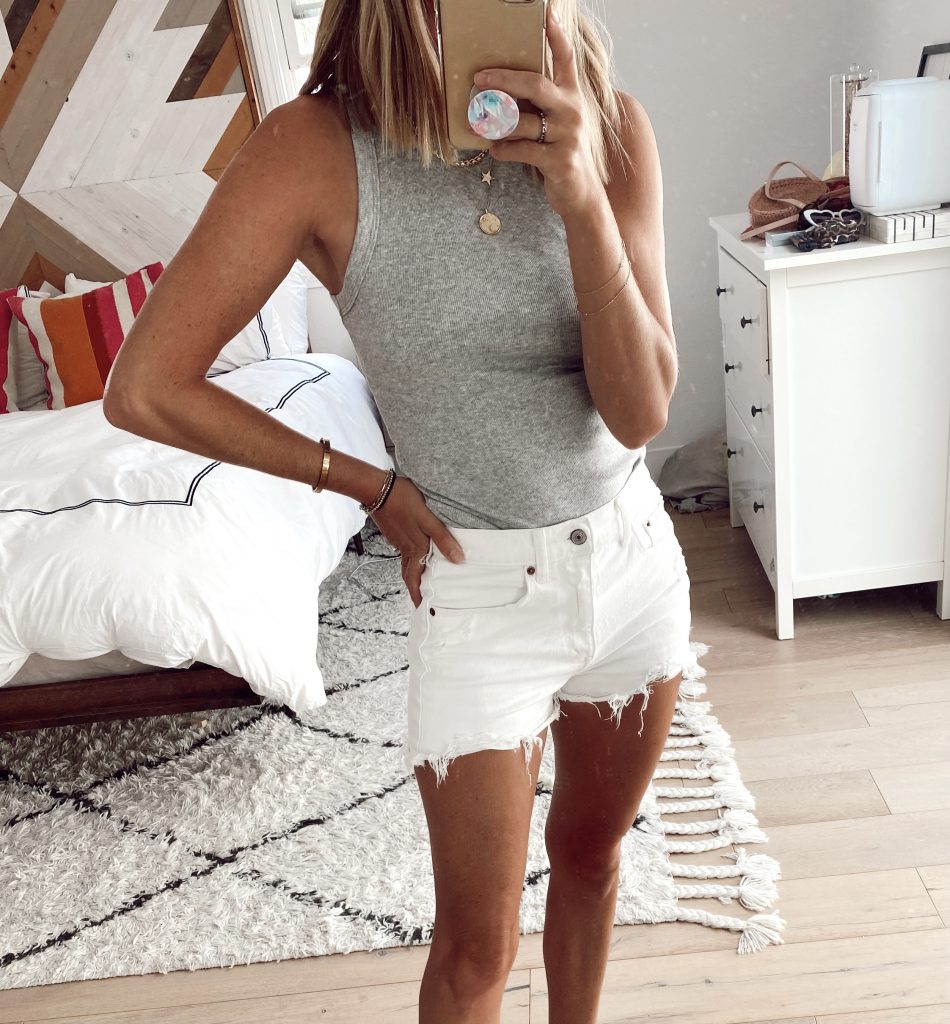 This little $8 is another staple I have in several colors. It's ribbed with a high neck and the most flattering cut in straps. Easy to wear on it's own or layer. It comes in so many colors and they add new ones every season. It runs a little small (and has a tight fit) so I go up one size.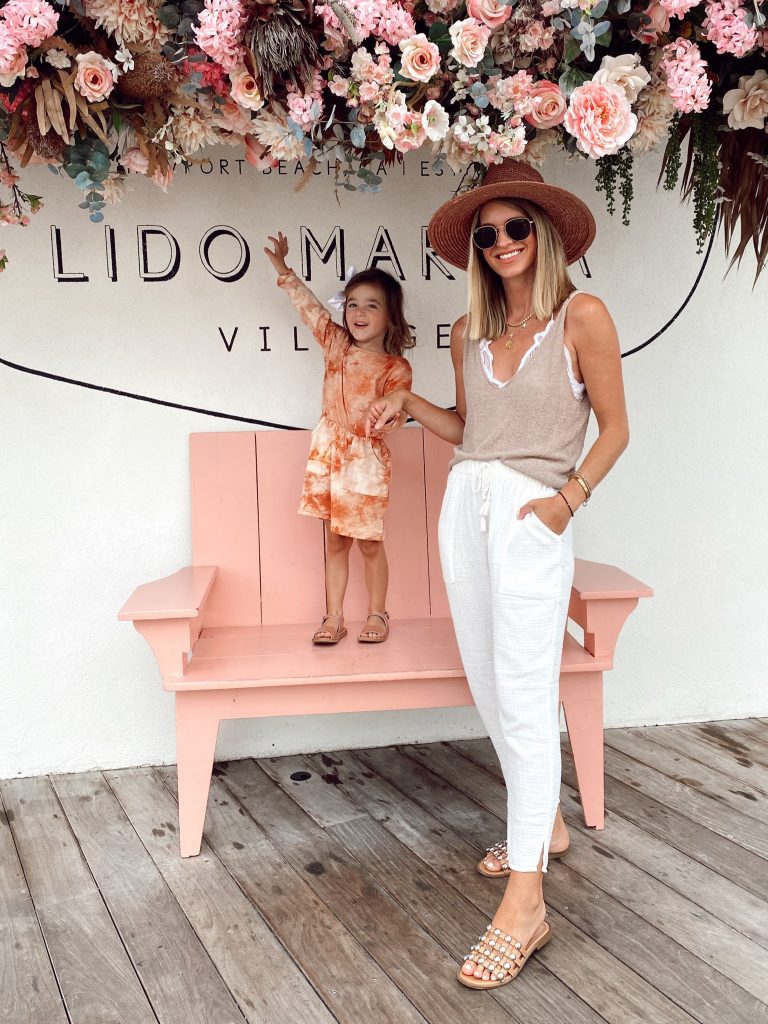 This knit tank is so effortless. It runs a little big and has a somewhat slouchy fit so I like to layer bralettes or basic camis under so it's not too low cut, but it fits everyone differently. It comes in 8 colors and they seem to add more from time to time. I also love to wear it knotted over a one piece swimsuit.
5. Abercrombie knotted crew tee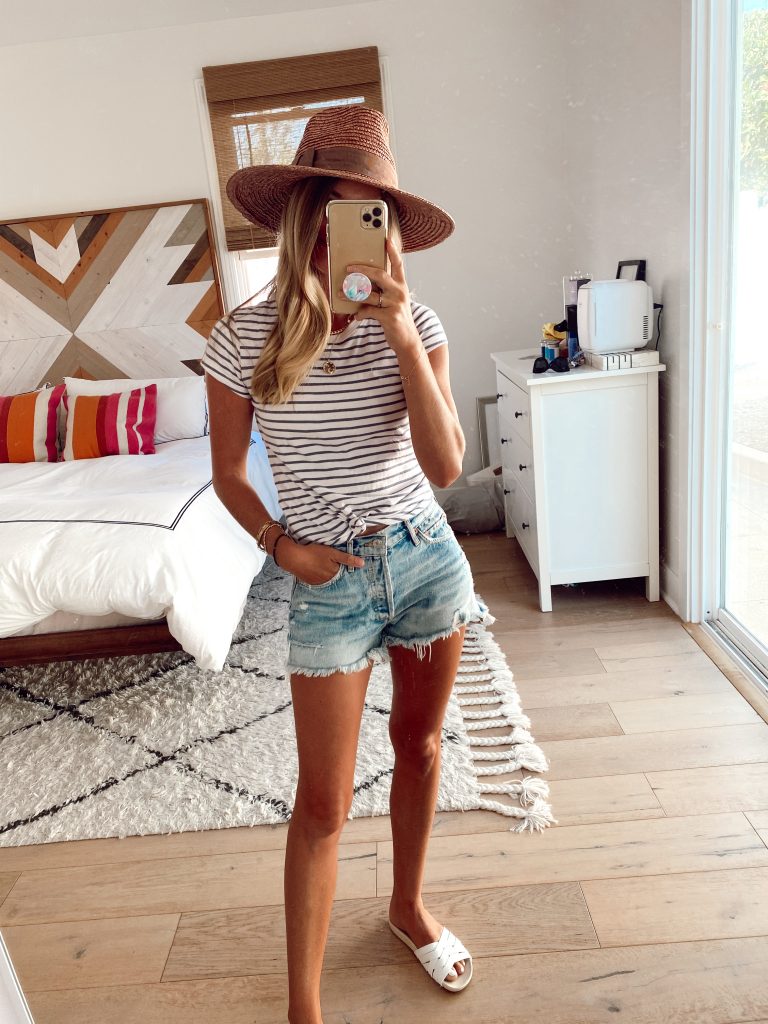 This is a classic t-shirt with a twist (the knotting in the front), but you always un-knot it. It comes in seven colors/prints. I've found it to run a little small so I would size up. It's a great price point at under $20.
6. Free People cropped baby bamboo tee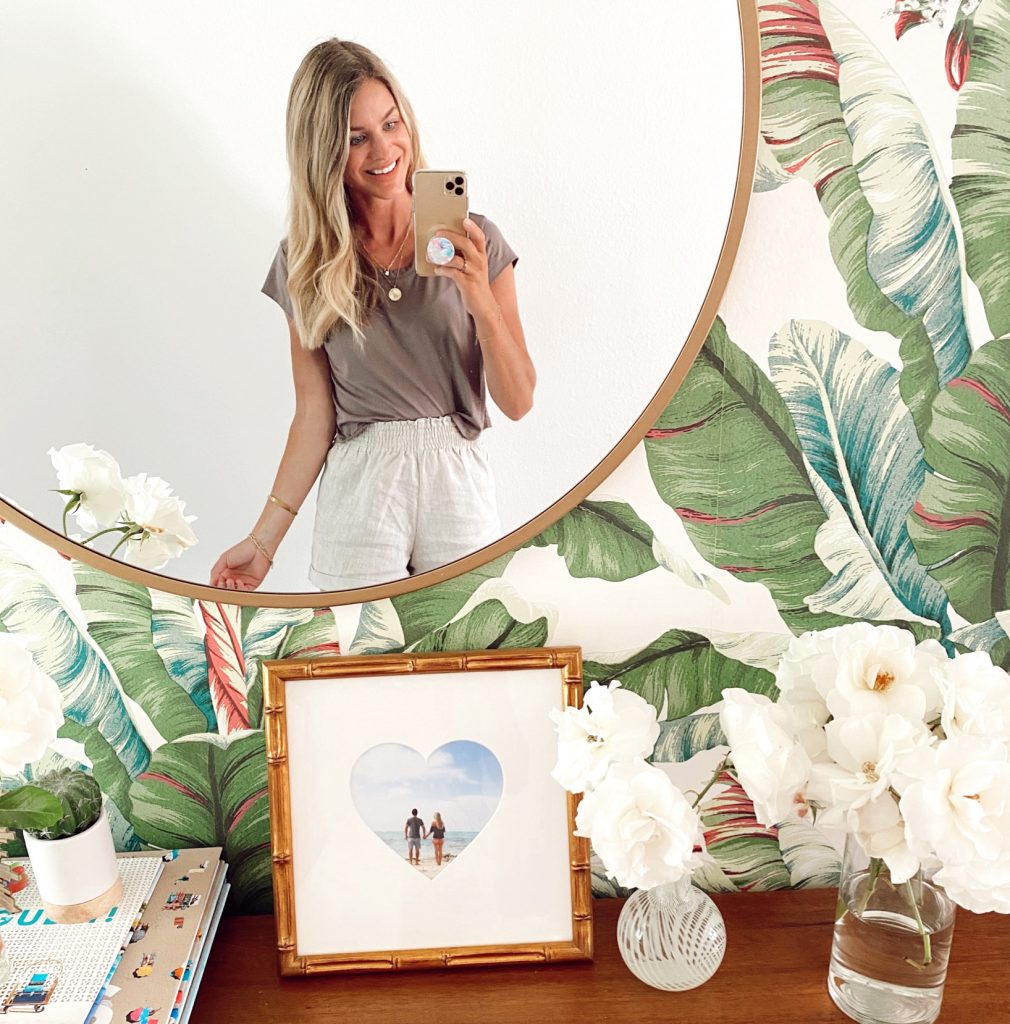 I first purchased this shirt in black at the beginning of last year's stay at home order to wear for walks with leggings and bike shorts. I loved it so much I got in a another color too. It is a true cropped tee – I wear it with high-rise pants and you don't see skin. It's $20 and comes in a bunch of colors.
7. Free People Cadence long sleeve top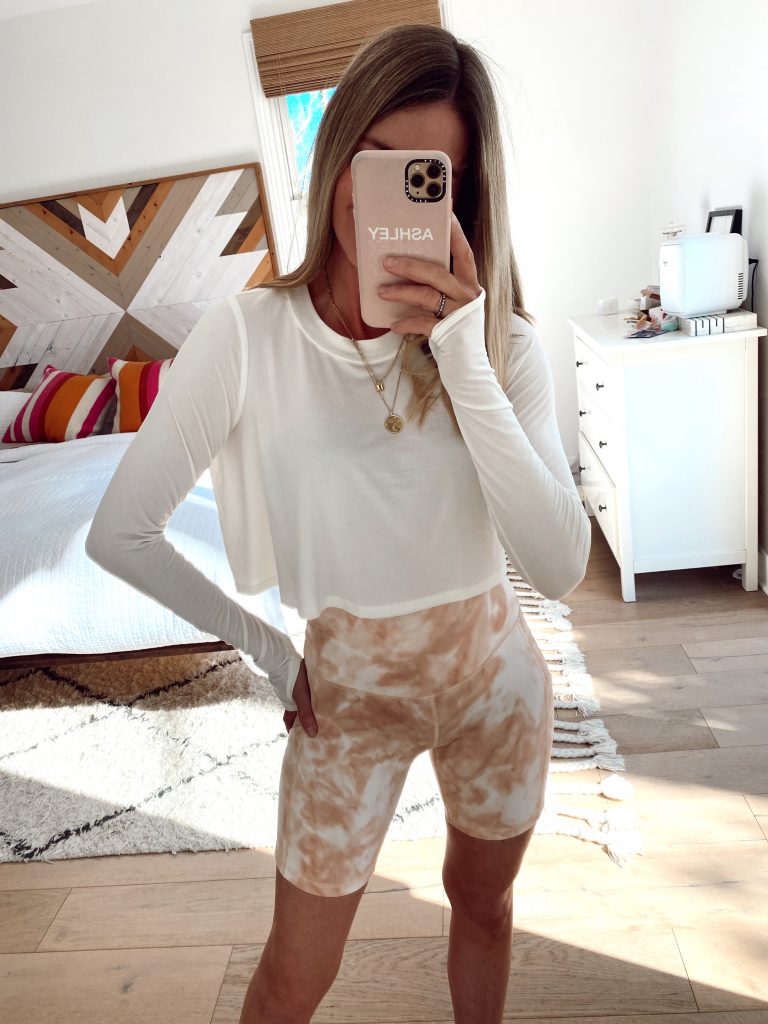 This is more of an active wear piece as it's part of the Free People Movement line but I wear it as a noral top. It's cropped in the front and longer in the back so I like it with high waisted pants. It's super light weight and the white is a little sheer but it comes in a few other colors too.
8. Abercrombie long sleeve seamless ribbed top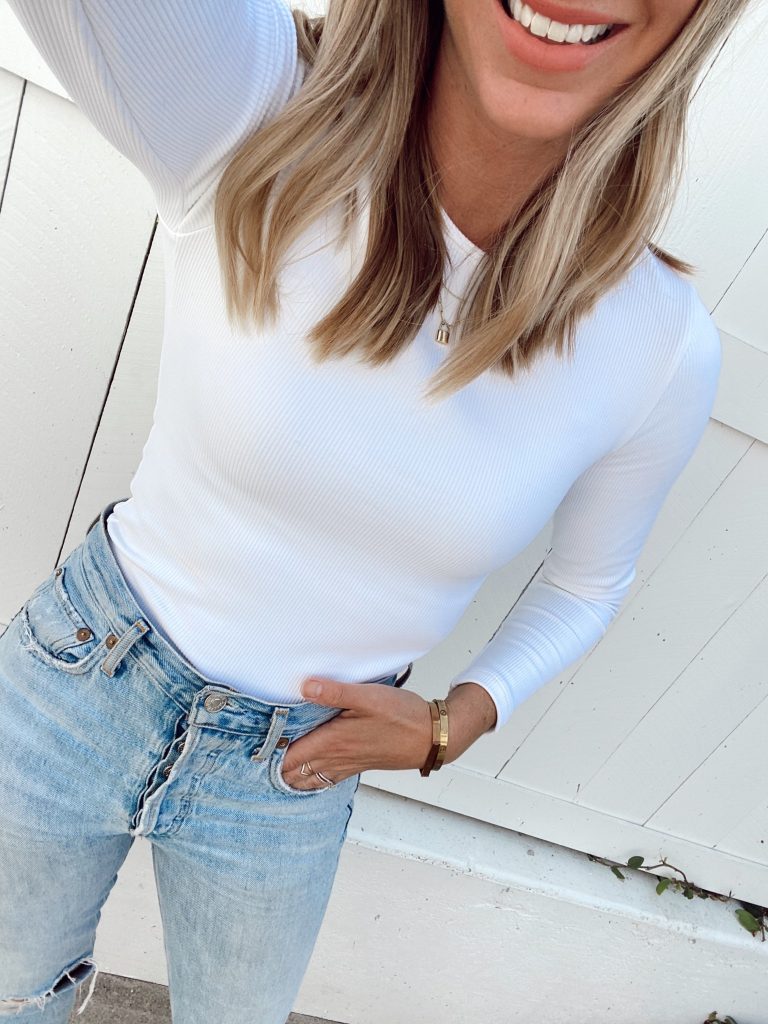 I purchased this top last month and it quickly became a new favorite. I got it in white and have worn it weekly since. It's stretchy, really soft and flattering. Because it's tight I went up a size so it would be more comfortable. It's slightly cropped and looks great with high waisted jeans. Also comes in black and moss green.
9. Free People Betty long sleeve tee
This long sleeve top is really light weight with a lower neckline, but it's really versatile. I have it in white and wear it often. Because it's light weight it's easy to layer and looks great under all my jackets. It runs big, I would size down if possible.