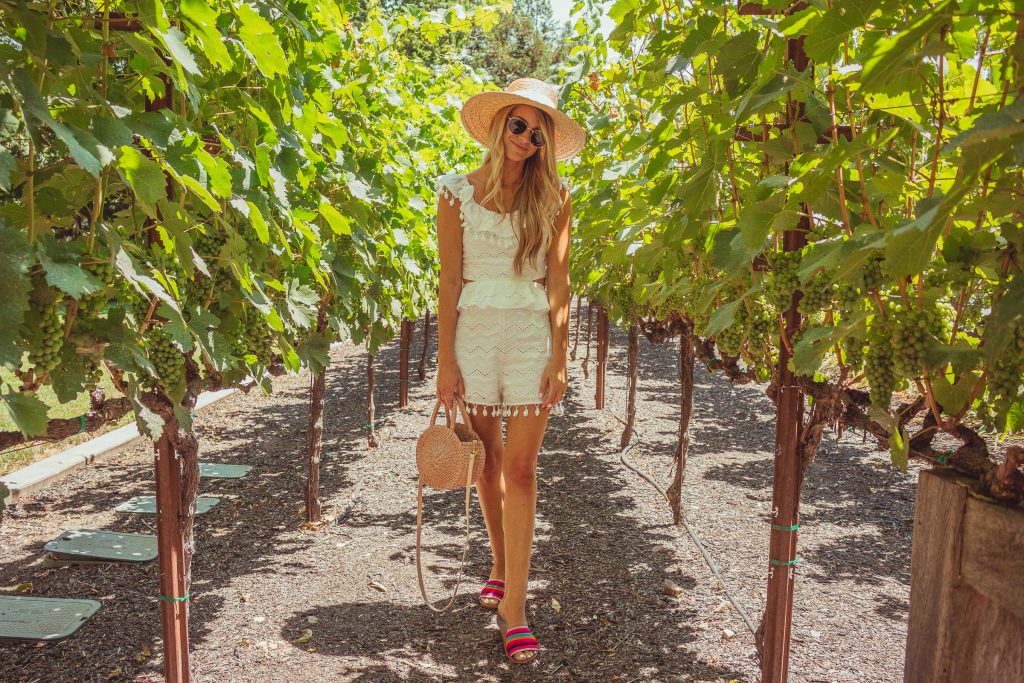 similar hat, sunglasses, romper, purse, sandals c/o
We just got back from a long weekend in Napa Valley. It was our first weekend away since Crosby was born… crazy, right?! We went up for a friend's wedding and made a long weekend out of it. We arrived Thursday morning and I changed out of my travel clothes into this cute white tassel romper.
I love an easy outfit like this and it was really perfect for our day. We started out with lunch and then went to a few wineries before we checked into our hotel and got ready for the first weekend wedding festivity. It was really hot and humid up there, but I was perfectly comfortable in this light-weight romper.
Now that it's practically August it's getting towards the end of summer. Although it will still be hot here until November, I know it's not necessarily like that in other parts of the country. Sometimes dressing for the end of the season is hard. You really don't want to buy anything new, but you're sick of all your clothes. Or is that just me? Regardless, I still try to switch it up and do so by buying a few things late in the season. The trick is to find things that you can wear again next year.
Although this romper is a bit trendy with the tassels and cutouts, I know I'll wear it again because it's a good summer staple. I feel that way about a lot of rompers in my closet, as I reach for them year after year once it gets warm.
As I get older I realize how much I thrive on a schedule and I'm really looking forward to getting back on track this week. Hope you have a great one!
similar hat, sunglasses, romper, purse, sandals c/o