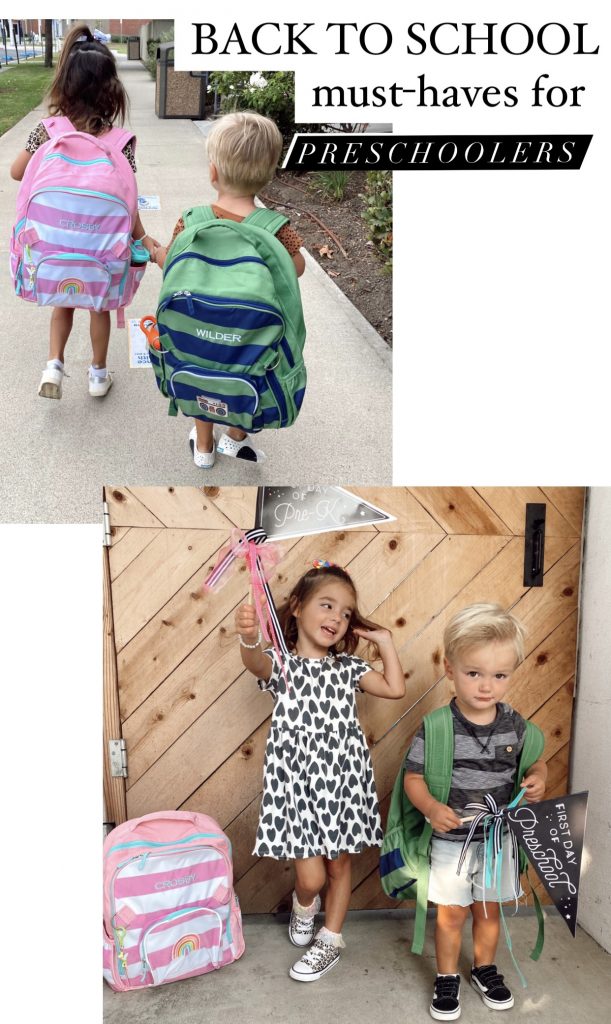 I can't believe it's the last day of August! This time of year always feels like we're turning the corner into fall and the holiday season… it goes by so fast! My kids started school last week. It's so nice to get into a routine again. Today I want to share my must-haves for preschoolers going back to school.
Clothes:
We keep it casual and comfortable. Most days Crosby wants to wear dresses and we stick to easy cotton ones she can play in/get dirty. I also love matching sets for her, Old navy always has cute options.
Wilder wears a t-shirt and shorts everyday.
Both kids love Native shoes – a few of our favorite pairs: here and here. I also have this pair of sneakers for Crosby that looks a lot like Golden Goose + these cute leopard converse. She has these ruffle socks to wear with sneakers. I love Vans shoes as well, Wilder has this pair.
Backpacks/lunch boxes:
I love Pottery Barn Kids for backpacks, they have a huge variety and monogram them. Crosby has this pink and white striped one and Wilder has the blue and green striped version.
Wilder doesn't eat lunch at school but Crosby does. I use this bentgo box and lunch bag and both kids have contigo water bottles.
Misc:
I got Crosby this rainbow beaded mask lanyard and so far we like Cat and Jack's pleated masks from Target best. They're sold out online, hopefully they get more soon. I purchased the digital download for these pendant flags for their first day of school pictures. It was an easy DIY with ribbon and a wooden dowel.