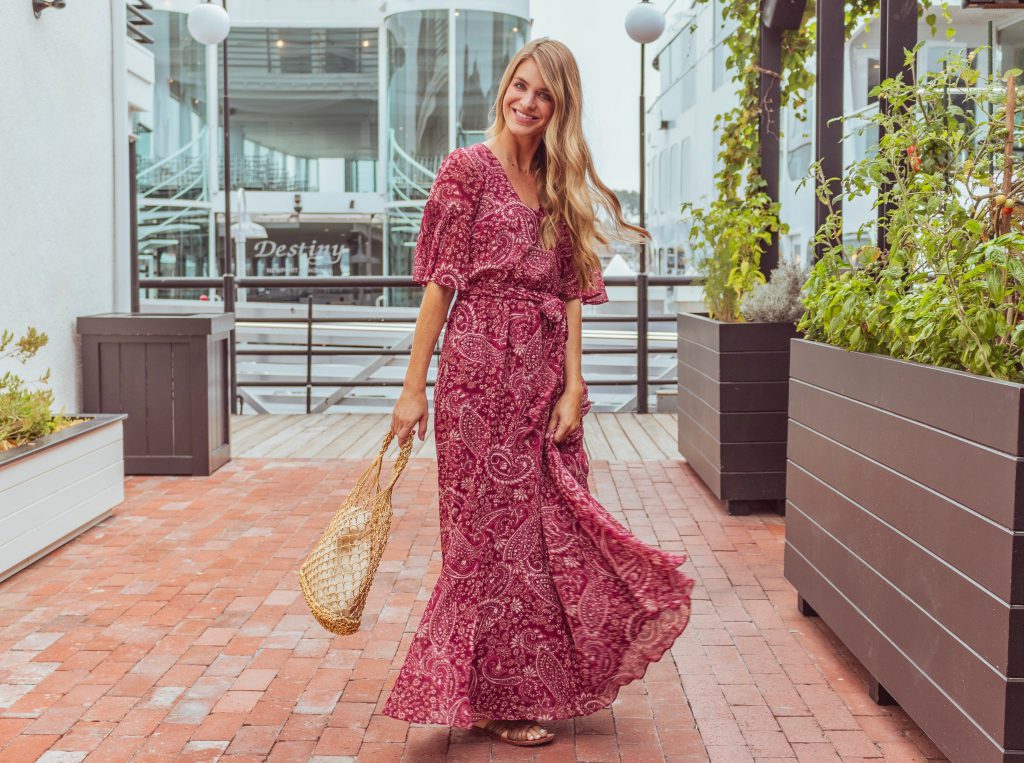 dress c/o, bag c/o, sandals c/o
Maybe I'm taking a style cue from Crosby (see my previous post), but it looks like I'm slowly transitioning my wardrobe to fall as well. At least I am today! I'm wearing this gorgeous maxi dress from the Gal Meets Glam collection and I think it's perfect for late summer/fall.
Julia, the Gal Meets Glam designer, was one of the first bloggers I followed before I started my blog. It's been so fun to see her launch her dress collection and I was so honored when she sent me this one. Along with her e-commerce site, her dresses are sold at Nordstrom.
Come fall I'll probably layer a denim jacket over it, because let's be real, our fall is very mild. I also think it would be a great option for holiday family photos… the deep magenta color kind of gets you in the festive frame of mind.
Summer has always been my favorite season, but this year I'm kind of over it and ready for fall. Mostly because it was a really hot summer here… and I think in most parts of the country. It's cooled down a little the last few weeks but I'm ready to wear sweaters and jeans again. Realistically that still won't happen for a few months so I'll just say I'm looking forward to drinking hot coffee again soon.
Some other transitional fall dresses I'm loving right now… this cute printed almost wrap dress that comes in two colors and this gorgeous long sleeve mustard colored dress. Annnd a few that I've recently added to my closet… like this fun ruffled cut-out maxi and this striped wrap dress I wore a few weeks ago.
dress c/o, bag c/o, sandals c/o
Hope you're having a good week – thanks for following along!