I've needed a new pair of denim shorts all summer, so I decided it was finally time to bite the bullet and get a pair. But let me just tell you, it wasn't that simple. I tried on five different pairs in order to find the best fit and I wanted to stay under $100.
I love the Agolde Parker shorts but they're $$$. I probably wouldn't mind making the investment if I knew they'd fit for a long time. But my body is still shifting since having Wilder. My hips seem to slowly be shrinking… and who knows how much longer I'll be this size. Not really worth spending money on a pair of shorts that will only fit me for one season. Plus we are on vacation this week and I knew I'd want a pair of cutoffs to wear.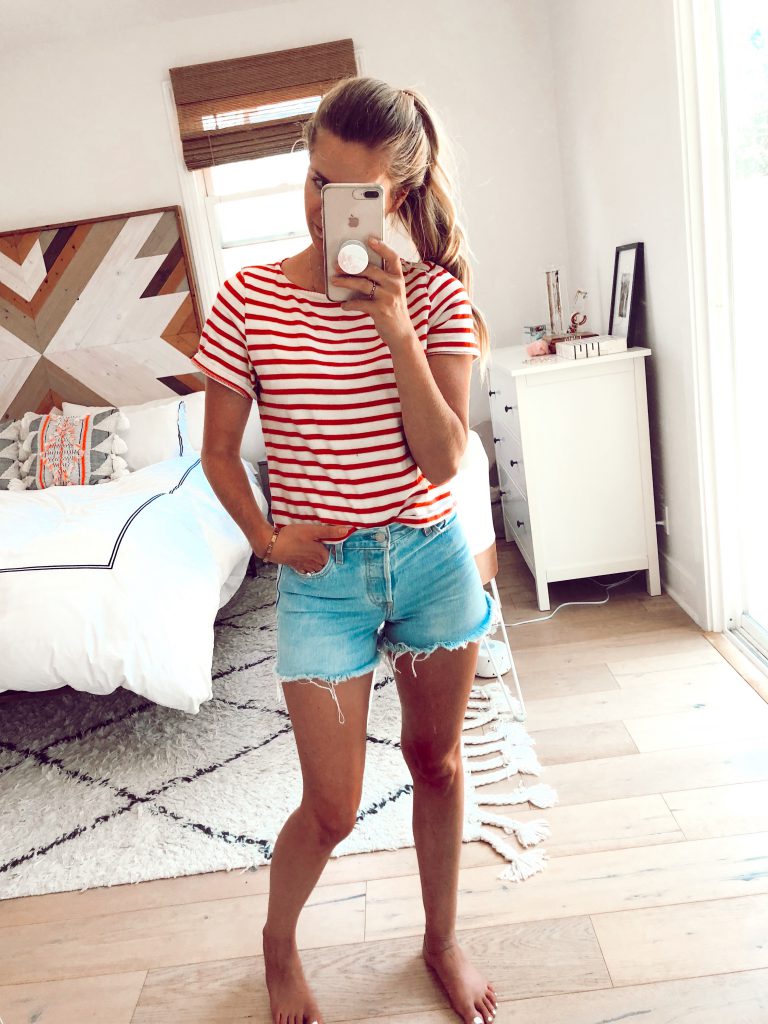 Breaking down everything I tried on…
Levis – this is the pair I ended up getting. Great high-waisted fit and loved the lighter wash. Also liked that they weren't distressed. I sized up to a 26 in them and they're still a little snug in the thighs.
Madewell – another pair I loved and would have purchased if they had the size and wash I wanted. Again great high-waisted fit with no distressing. Comes in several washes. My normal size 25 fit in these.
Treasure & Bond – these aren't stiff denim, they're stretchy which is very comfortable. However I wasn't loving the wash/distressing on this pair. And they ran big, a 25 was loose on me.
Free People – really loved the fit and wash on this pair but wasn't crazy about the distressing. Since it was on the hem it made the shorts feel a lot shorter in the front.
Topshop – I actually own this pair from last summer. They fit really well and are comfortable… something that's hard to come by in high-waisted denim shorts.
Hope you're having a good week – thank you for reading and following!