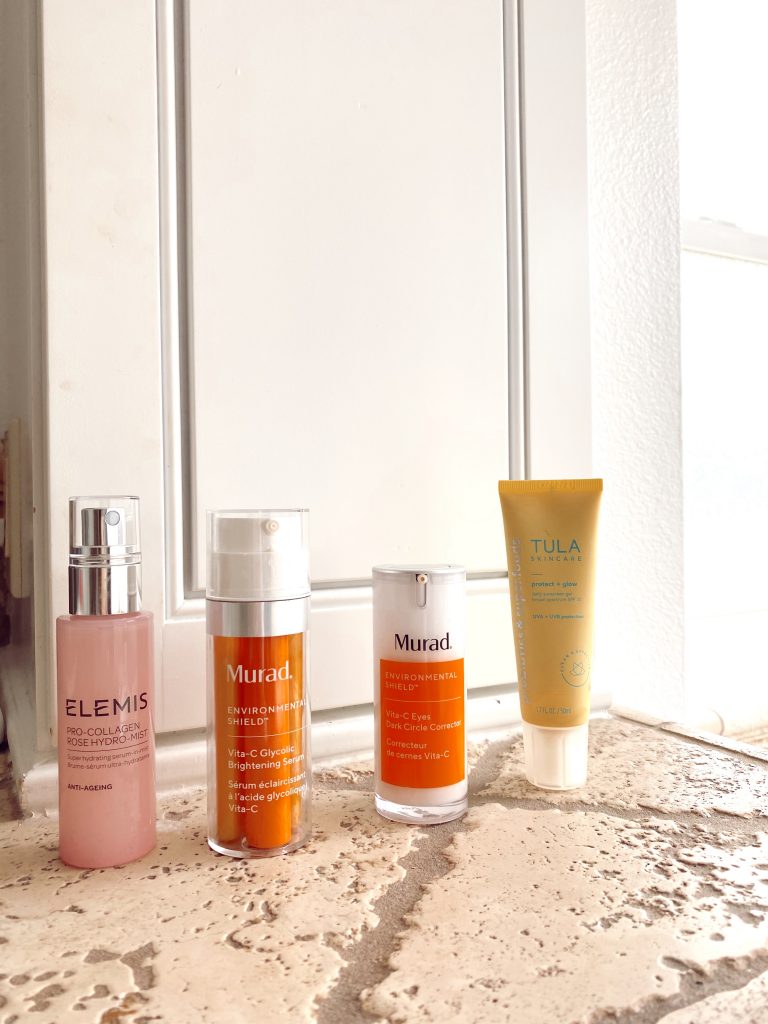 Happy Monday… but does that it even matter what day it is anymore? I apologize for going radio silent over here the past week, I'm still trying to balance this new normal. Today I want to talk skincare! I haven't been wearing much makeup lately but have still been focused on skin. I wanted to share my current morning skincare routine…
I start by splashing cool water on my face, I normally don't use a cleanser in the morning just water.
Then I spray Elemis Pro-Collagen Rose Hydrating Mist all over my face, neck and chest and blot it in. This has such a subtle scent that makes me feel like I'm at the spa.
Next I apply Murad's Environmental Shield Serum to my face, neck and chest. It's packed with vitamin C which I feel really helps to wake up my skin.
Followed by Murad's Environmental Shield Eye Cream. This brightens my eyes so much and instantly makes me feel more awake.
I finish with Tula's brand new sunscreen. I'm a huge fan of this, it's not greasy, does not have a white tint, smells great and even has a subtle glow.
All of these products (and all products from their respective brands) are currently on sale.
All Elemis products are 25% off with code LTK25
Murad's are also 25% off and free shipping with code LTK25
My discount code for 15% all Tula products is ASHLEYJACKEL
Other favorites from Elemis include this cleansing balm… I love both the original and the rose pro collagen, this marine oil, night cream and neck and decollete balm.
From Murad I love this peel, gel moisturizer, age spot correcting serum and recovery eye serum.
My favorite Tula products are this primer, brightening eye balm, cult classic cleanser and these gummy vitamins.
Hope you have a great week – as always thank you so much for reading and following.