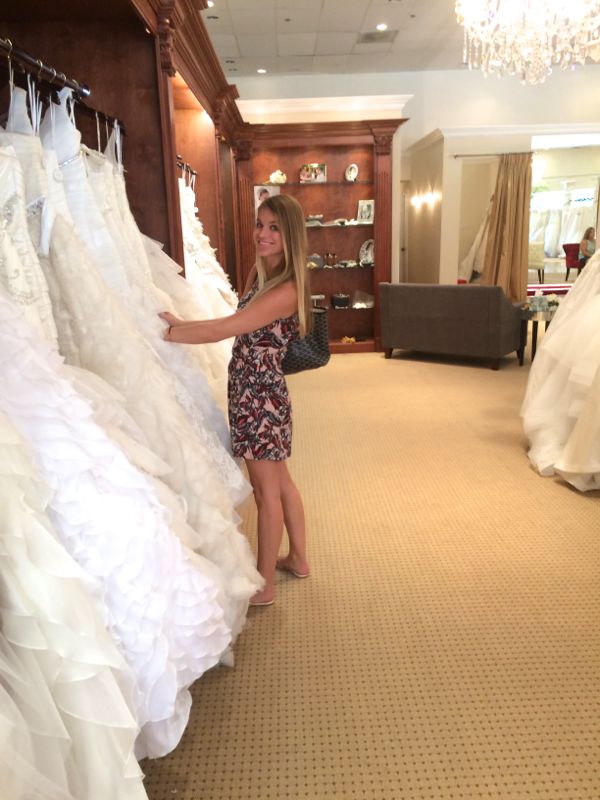 My wedding is just a little over eight months away and I have started dress shopping! Even for someone like me who is extremely decisive and has a lot of opinions, it's such an overwhelming experience. I made some mistakes on my first shopping trip but have picked up a few tips and thought I'd share.
Do you hair. This may sound silly but I went in to my first appointment with dirty air-dried locks and felt kinda blah. My hair is stick straight and you can bet I won't be wearing it in its natural state at the wedding, the very least I could have done is spend an extra 20 minutes with my curling iron adding some waves.
Makeup. I'm not saying you need to be fully glammed out, but just like I said with hair you'll want to look your best. Maybe wear a pretty lipstick or spend a few extra minutes with your mascara wand or plucking your eyebrows… anything!
Wear or bring the proper under garments. Luckily I knew this going in and came prepared with seamless underwear and my favorite backless strapless bra.
Bring a pair of heels the same height you think you'll wear at your wedding. Trying on gown barefoot is not ideal and doesn't give you the best impression. If you're wearing flats you probably don't need to worry about this but it never helps to have a pretty pair of shoes to compliment your dress.
I hope these tips help point you in the right direction before your first appointment. I have another appointment today and will be much more prepared this time. Happy shopping!