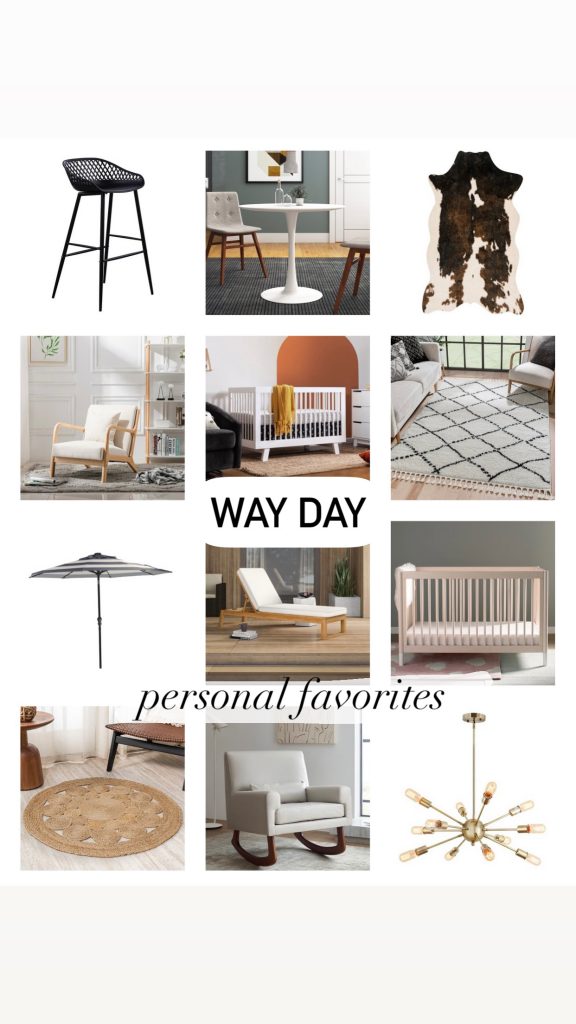 It's Way Day – AKA Wayfair's biggest sale of the year. I actually didn't know this was a thing until a few years ago when I got an email from them about it. I took advantage and made some of my very favorite purchases that year and have loved the sale ever since. Today I want to share items I personally own and love available on Wayfair.
Black outdoor bar stools – We purchased these for our outdoor bar addition last summer. They're durable, easy to clean and I love the style.
White tulip dining table – A simple but classic dining table that seats four.
Faux hide rug – We've had this for years – I love the colors.
Mid-century inspired arm chair – A newer addition to our den. Love the style of these chairs and they're pretty comfy too.
Babyletto Hudson crib – I fell in love with this crib when I was pregnant with Crosby and knew it was the one for her. It converts into a toddler bed and she slept in it until last summer.
Nuloom Moroccan rug – We have this in our bedroom – it's cozy and goes with everything.
Navy and white striped umbrella – There's something about navy and white stripes that remind me of summer. They're classic, clean and never go out of style.
Outdoor lounge chairs – This was one of the purchases I mentioned I made a few years ago on Way Day. My favorite place to lounge in our backyard. They are so comfortable.
Babyleto Gelato crib – I wanted a different style crib for Wilder but knew it had to be Babyleto. Love the light wood and style of this one.
Round jute rug – Purchased this last summer to go under the lounge chairs. It really brings the space together.
Nursery Works rocking chair – I've rocked both babies in this chair and it's still in Wilder's room. I'll be sad when the time comes where we don't need it anymore.
Brown leather pouf – This was purchased with the rocker for a foot rest. It's classic and will be in Wilder's room for years.
Sputnik chandelier – When we first bought our house I couldn't wait to install a sputnik in our dining room and was so happy the day this one went up.
Tribal area rug – We've gone through two other rugs in our living room but this one has been my favorite. I love the pattern, texture and way it brightens the space .
Light tan leather pouf – These are the same style as the darker brown one in Wilder's room but in a lighter softer shade I love for our living room.