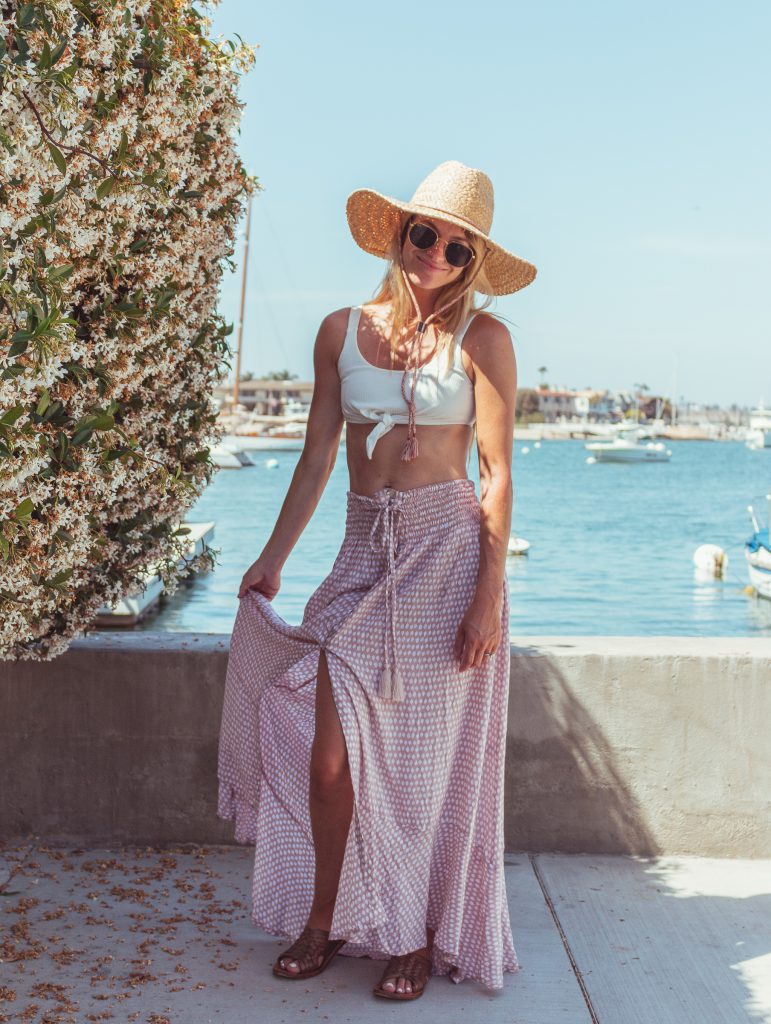 hat c/o, sunglasses, swim suit top c/o, skirt c/o, sandals c/o, bag c/o
Happy Summer Solstice and longest day of the year! I thought it was only appropriate to wear this total summer look on the blog today. I wore this to the beach a couple weeks ago and stopped for some photos on the way home. So please excuse my post-beach-day sweat/glow. The hat and sunglasses were definitely needed. HA!
This Tiare Hawaii skirt is a new addition to my closet, but I think I'll be wearing it a lot of different ways this summer. It's slightly high-waisted (but I pulled it up higher so it wouldn't be too long). There's a coordinating crop top that could be worn with it for a really cute matchy-matchy look… or you could mix a variety of colored tops with it to suit your mood.
I'd never worn a high-waisted skirt as a swim coverup before, but I think I like it! This new suit from PilyQ is really fun for summer. I love how much coverage the top provides. As I mentioned, I wore it to the beach this day (here's what the bikini looks like here without the skirt) and was comfortable running around chasing Crosby in the sand. What. A. Workout.
I also want to mention I'm currently doing a Beek Sandal giveaway on my instagram. I love these sandals so much. I've had this pair for over a year and whenever my girlfriend Shelby and I get together with our babies we seem to do a lot of walking. In the warmer months I always wear my Beeks for this and have never gotten a blister or been uncomfortable. We go to the beach and walk for miles sometimes. I love these sandals because they have a wooden sole and mold to your feet the more you wear them. They're locally made in Newport and come in so many really cute styles. You can see them all here.
hat c/o, sunglasses, swim suit top c/o, skirt c/o, sandals c/o, bag c/o