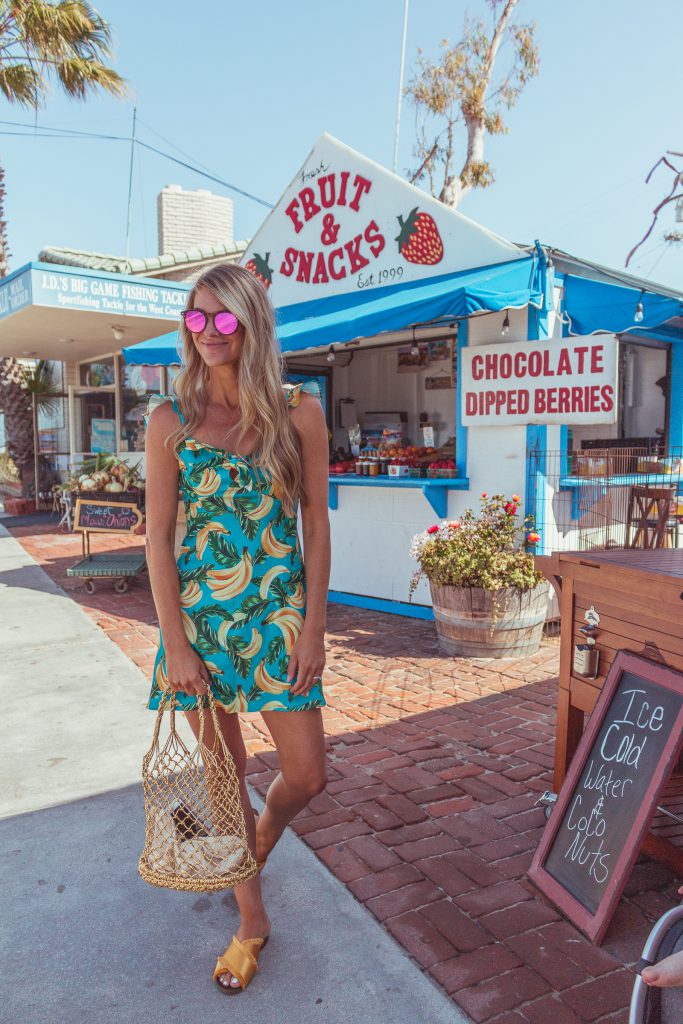 Last week I got to sneak away to a fun dinner at Pacific Edge Hotel with Show Me Your Mumu. I've always loved this brand – they're LA based and have the most fun bright prints. I knew I had to take this dress home with me.
So sticking with the love theme, Balboa Island is probably my favorite "neighborhood" in the area. It's the most charming and picturesque little island that you can only get to by bridge or ferry. One of my favorite things to do is to get Crosby in the stroller and walk around the island oogling at the homes. It's really small so a walk around doesn't take more than an hour. Plus there are so many cute areas to explore.
I came across this fruit stands a few years ago and have had it in the back of my mind as a place to shoot ever since. So obviously I had to do it with this banana dress. Side note, Balboa Island is know for their frozen bananas and "Balboa" bars, so when I told Jeff I wanted to shoot this dress there he assumed I wanted to do it at the banana stand. I never even thought of that! As soon as he said it I thought it would be cute to shoot there too. Unfortunately the day we went to shoot was during their annual summer parade and the banana stands were right on the parade route.
similar sunglasses, dress c/o, bag c/o, shoes c/o