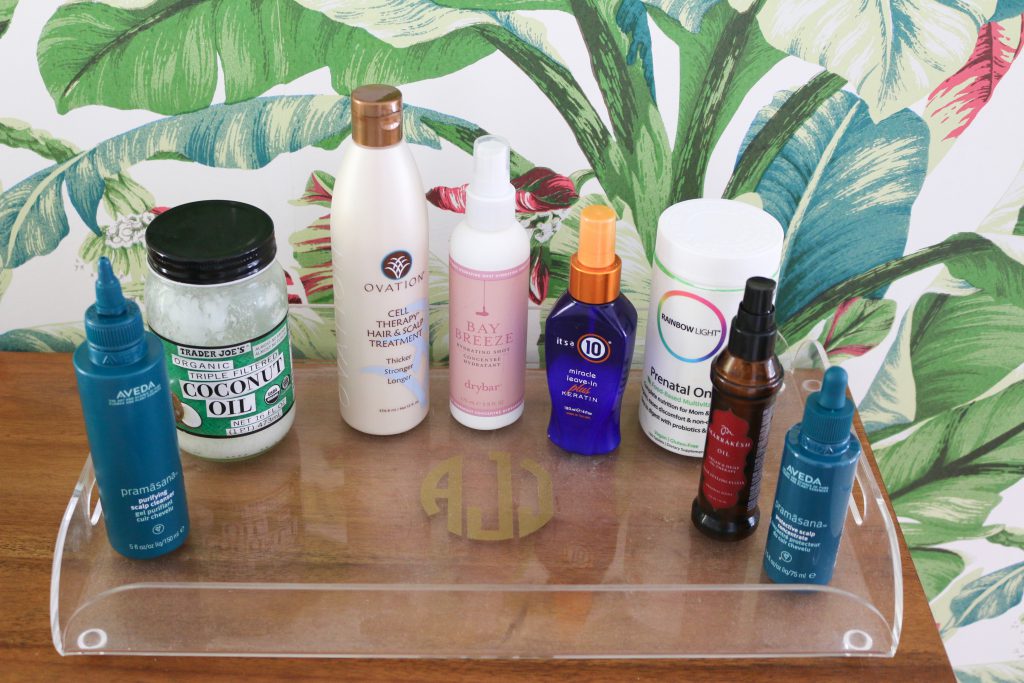 When I was pregnant my hair never looked better. It was strong, thick and I only needed to wash it about once a week because it didn't get greasy. It was dream hair. I'd be able to curl it and have it last a whole week! Not to mention it was growing like a weed and it got so long while still being healthy.
The good old days…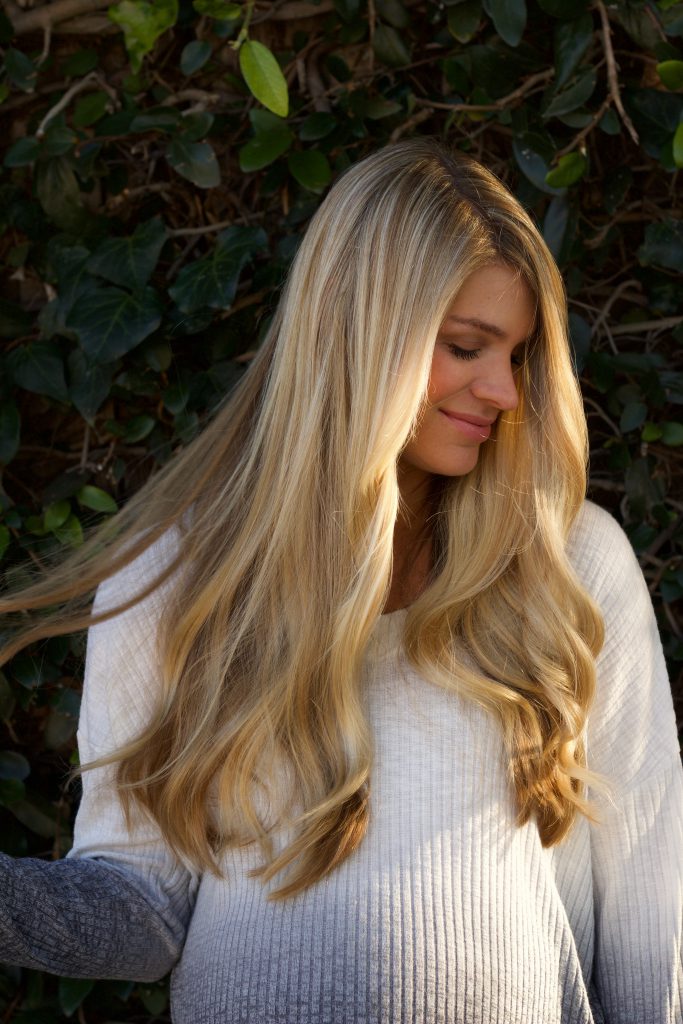 Once I hit the three-month post baby mark I started experiencing the dreaded postpartum hair loss. When I wash my hair (back to every other day or so) I pull out clumps of hair and there's enough in my hairbrush and drain to make a wig… not to mention it sheds all day long. My poor husband finds it everywhere and I'm also finding it in Crosby's hands, oh yes, she's started pulling it too! The fun never stops.
Since my hair is a lot more high maintenance these days I wanted to share some products I'm relying on. I know it's really a waiting game and soon I'll have some fun new baby hairs growing in, but in the mean time I'm trying to minimize the loss with some product help.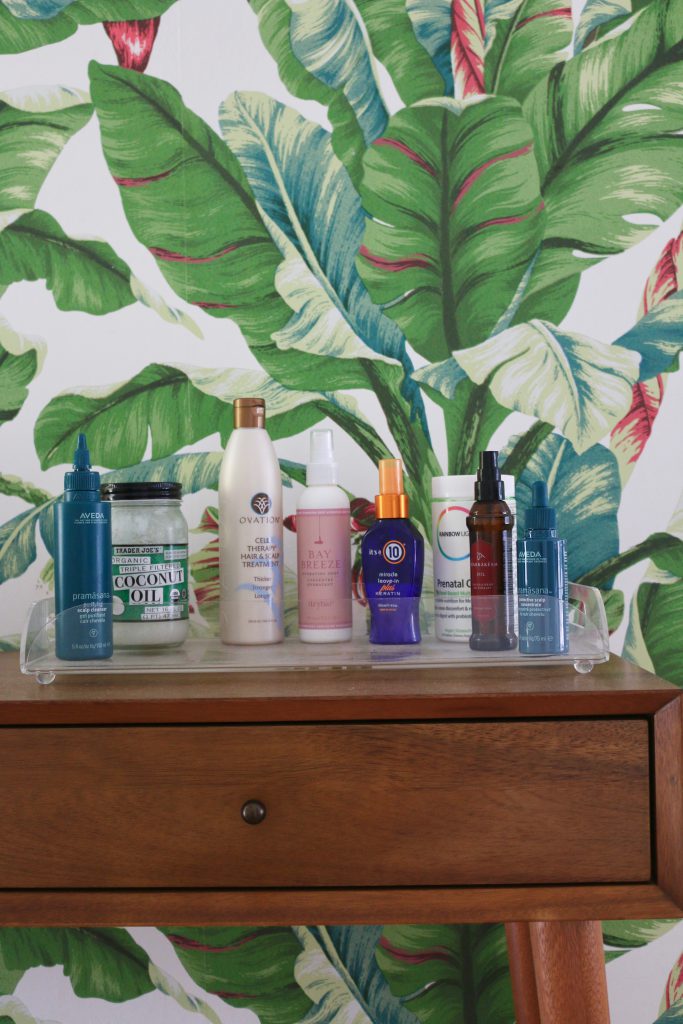 Prep: before I wash my hair I prep it with Aveda scalp cleanser and Coconut Oil. First I massage in the scalp cleanser into my scalp and then I rub coconut oil on the ends of my hair and twist it into a bun. I leave them on for at least an hour before washing them out.
Tip: if you're going to be leaning against anything I'd suggest putting a shower cap on to hold the oils in. I got some on my couch once and it took forever to get out!
In the shower I shampoo as normal (I'm still loving this drug store shampoo), but then I follow with this. I actually started using Ovation because I was doing a few sponsored instagram posts for them but ended up really using and loving this treatment. It's meant to go between their shampoo and conditioner, but you can use it with anything. I only use it once or twice a week.
Another thing I use at least once a week is this ultra hydrating shot. I started noticing just how dry and brittle my hair was feeling and thought maybe if I got it really hydrated it would help. I use this in place of a conditioner.
I've raived about this before but I literally cannot wash my hair unless I have this leave-in to comb it out with. My hair gets super tangled when it's wet (each time someone new does my hair I appologize over and over about this) and this is the only product that makes getting the tangles out easy. Not to mention it does wonders to strengthen and protect your hair. I've forgotten it while traveling and tried using other products and always end up hating how my hair feels.
After my hair air dries for a few minutes I've been rubbing this oil into the ends. I don't use a ton because it will weigh it down but it really helps.
Finally I just started using this other scalp treatment. This one goes on after you wash your hair and can be applied to damp or dry hair. I prefer to do it while it's damp, then it dries with your hair.
Since I'm still breast feeding I'm still taking my prenatal vitamins which are great for healthy skin and nails. At this point they can't hurt with the hair loss!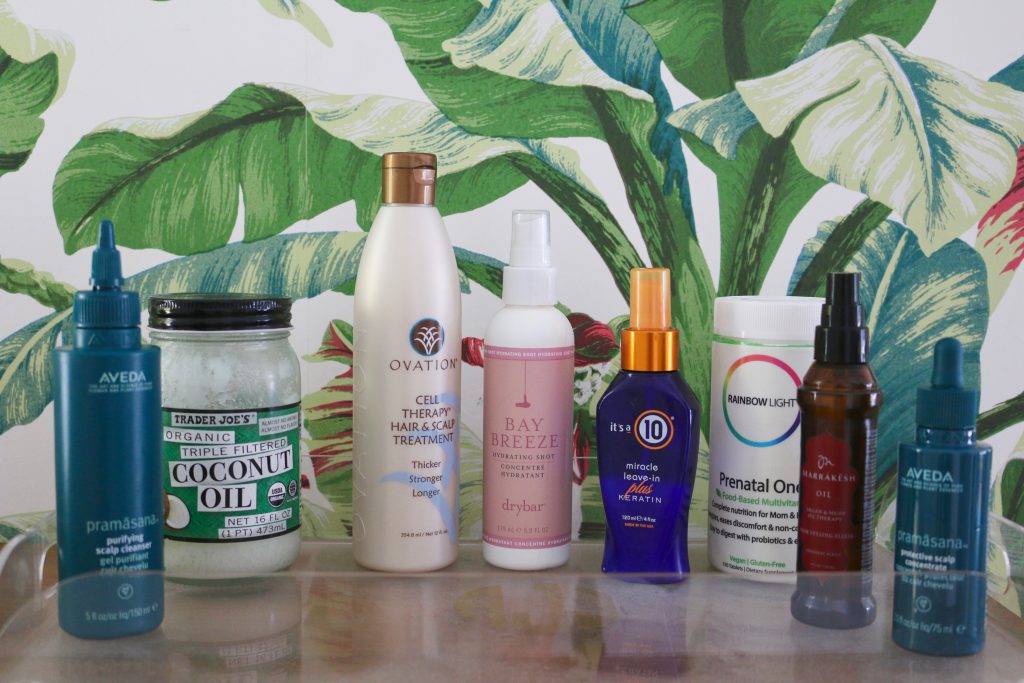 – shop the post –
I know this seems like a lot but I don't use these products every day. I'm looking forward to having normal hair again, but in the meantime I'm thankful to have some reinforcements with me to do the dirty work!