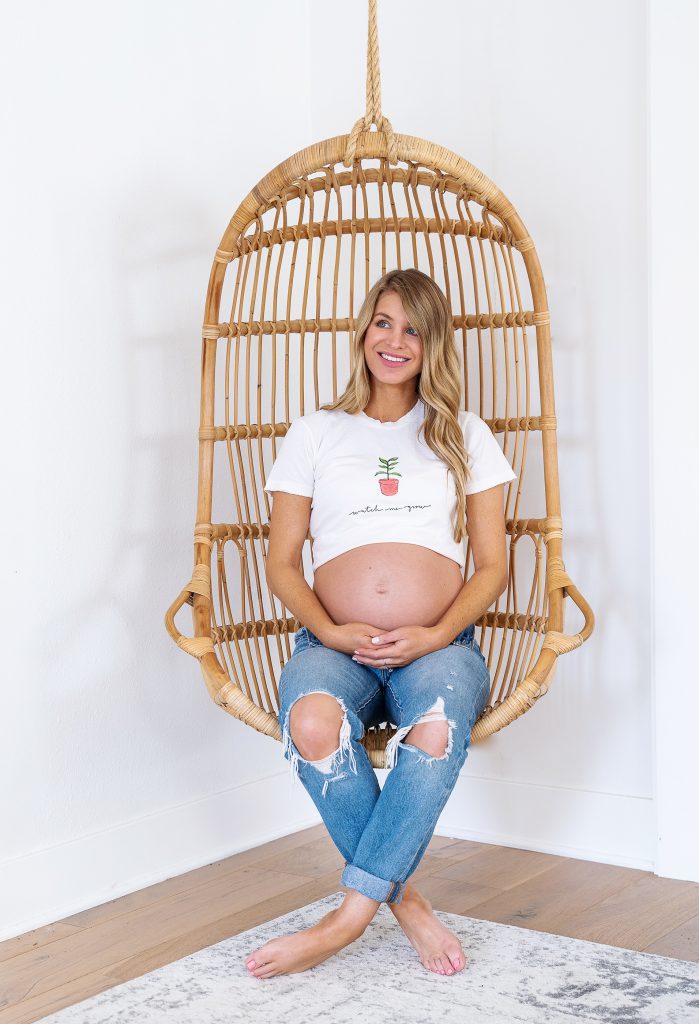 t-shirt, jeans, hanging chair, rug
I'm now 30 (almost 31) weeks pregnant so I thought I'd give another little update. This pregnancy has been pretty easy all things considered and is really just flying by. If I had it my way I'd turn back time and get started on things a little sooner… since that's impossible we're just going to have to jam from here on out.
Nursery – No progress there. Well, no noticeable progress. We do have a crib (in a box in another room) and some odds and ends. The rocking chair, changing table/dresser, book shelves and corner shelf will all be staying in the room so he doesn't really need too much more. We're currently looking for a mattress, we got Crosby this one and will probably do the same this time.
Crosby's room – I mentioned in a previous post that we were clearing out our current guest room to make it Crosby's. A few weeks ago we spent the day doing just that. Lots of manual labor for Jeff… and trips to donate items. We have another donation pickup scheduled for next week for bigger items. Then after they're cleared out we can start moving her in. Oh yeah, we ordered blackout shades for the room so we're waiting for those to come in too.
Weight gain – I've officially gained more with this baby than I did with Crosby. I'm trying not to let that bug me and hope instead it makes him bigger and a better eater from the get go. It's so hard to see the number on the scale go up at each appointment but I know it's for a great reason.
Gestational Diabetes – Since I had GD with Crosby I was first tested in my second trimester this time. I ended up failing the one hour test and passing the three-hour, which meant it was game on for eating over the holidays. Last month I needed to test again and went straight to the three-hour. I was so ready for the GD diagnoses to come, but when it came back negative I was almost upset. I'd been telling myself the whole time I could eat whatever I wanted over the holidays and then I'd go back on the strict diet and be able to have a healthy pregnancy like I did last time. I guess I realized that not having a reason to be on the diet made it impossible and was frustrated with my weight gain. I'm still trying to eat healthy, but it's a lot harder when you feel like there's no real reason to.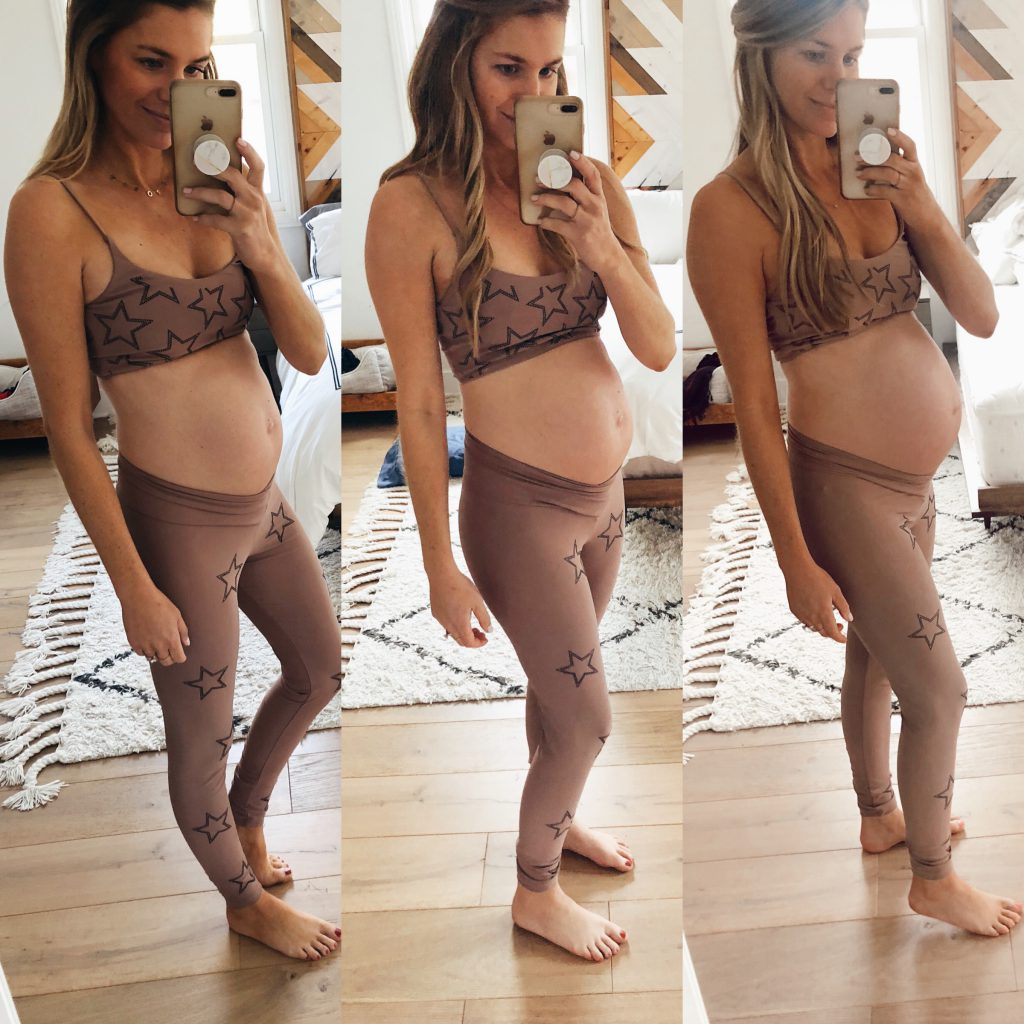 from left – 24, 27 and 30 weeks
workout set via Beach Riot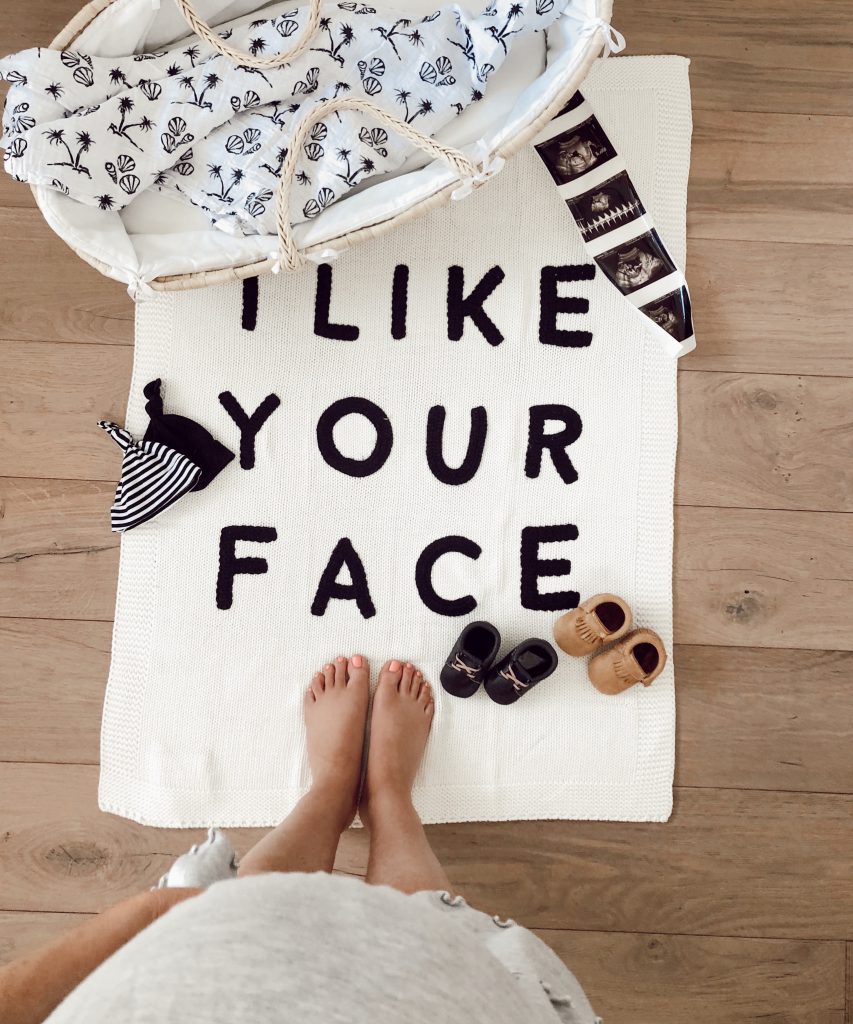 blanket, basket, swaddle blanket, hats, tan shoes, black shoes