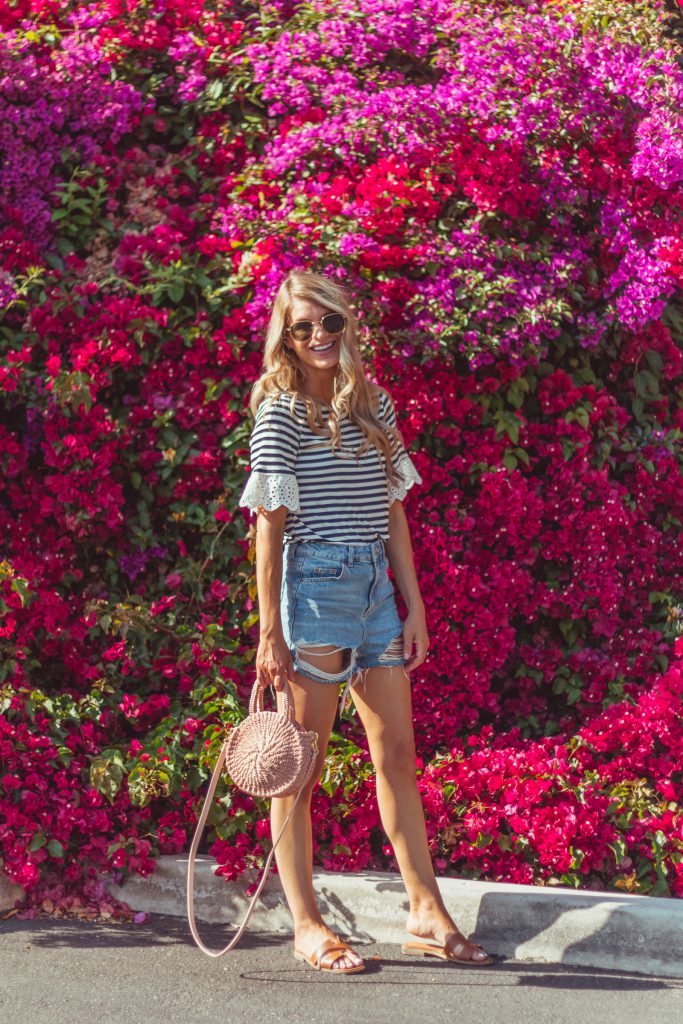 I'm really obsessed with bougainvillea right now. Like, I want to take a photo of it everywhere I see it. We have this big white fence on our side yard that you can see from our dining room and kitchen and I've wanted to grow bougainvillea on it for a while now. About a month ago Crosby and I went to Home Depot to buy some small vines to put in pots in hopes that one day they'd take over the fence.
Now I don't have a history of having a very green thumb, but these plats grow wild all over Southern California. I see them on the freeway so I was thinking if they can survive there I should be able to keep them alive in my yard.
Less than a month later they were losing a lot of blooms and looking very wilty. I didn't want to over-water them, plus we had a little rain, so I ended up under-watering them. They're hanging on for now and I'm hopeful they'll make a recovery….
Naturally I wanted to shoot in front of this gorgeous bougainvillea bush we passed on the way to a friend's house. It was late afternoon and the lighting wasn't perfect but these colors were to die for. I was wearing my summer uniform – my favorite cutoffs and a tee. This tee is a little more elevated than normal – I love the lace detailing on the sleeves. I've also been loving this blush straw bag and know it will be a staple in my summer wardrobe.
sunglasses, top c/o, bag, shorts, similar sandals