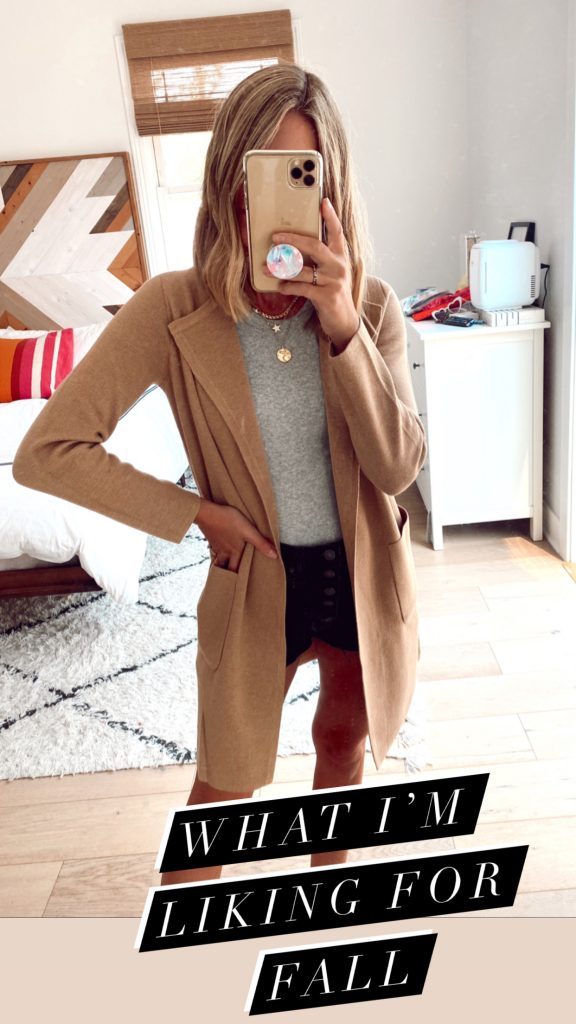 This time of year is always a little tricky for me to dress for. It's definitely still summer here (it will be warm until at least November), on one hand I'd love to live in swimwear and cutoffs all year, but part of me wants a little bit of fall. I'm starting to shop and incorporate a few fall-ish items into my wardrobe. Today I want to share 10 pieces to start transitioning to fall.
J. Crew Collarless Sweater Blazer – this is a new item for me and I LOVE how versatile it is. I can wear it now in the morning or evening when it's somewhat chilly, and into cooler weather too. It looks just as good over shorts as it does over pants and comes in 4 other colors.
Leopard joggers – these are a fun larger than normal leopard print with a stripe down the sides. Can be worn to lounge, or dressed up a little with a moto or denim jacket.
Target tank – such a great staple! I ordered this tank in 4 colors and will be wearing it all year round. It's perfect to layer under jackets or sweaters before it gets too cold and looks great on it's own too.
Madewell sweater – I'm calling this a sweater but it's really not. I wore it on our staycation with shorts last week and will be wearing it into fall with jeans and joggers.
Aerie oversized sweatshirt – I got this sweatshirt last year and still love it so much. It's a big oversized and perfect to wear with biker shorts or leggings if you want a little extra coverage.
Faux leather shorts – I've been eying these shorts for a few weeks and might need to pull the trigger. They're the perfect shorts to wear when it's still warm but the calendar says fall. They'd be cute dressed up or down.
Faux leather moto jacket – I love the carmel color of this jacket but it also comes in black. A great staple to wear the rest of the year!
Felt fedora – another favorite from last year. I think this soft color is so beautiful and it goes with so many things in my closet!
Knit belted jumpsuit – I've had this jumpsuit for a few months now and love how practical it is. It's comfortable enough to wear to lounge and looks pulled together to wear out and about too. You could always swap out the belt to make it a little dressier.
Long sleeve tshirt – another great layering staple. This tee comes in so many colors and is perfect to wear year round. I'd wear it now with denim shorts and later with jeans and the J. Crew sweater blazer.